The nursing assistant training available for one to enroll in within Klamath Falls, Oregon is listed on this page. Included in the list are two different levels of CNA classes that are being offered as of this moment. You can contact the number provided for more information about nurses aide requirements, enrollment details, and class schedules.
Klamath Community College
7390 South 6th Street,
Klamath Falls, OR 97603
(541) 882-3521
culp@klamathcc.edu
https://www.klamathcc.edu/
[Level 1 and Level 2 Nurse Aid Programs Available]
Sky Lakes Medical Center
2865 Daggett Street,
Klamath Falls, OR 97601
(541) 882-6311
http://www.skylakes.org
The state of Oregon is one of the best states to start a career as a nursing assistant. To work as one, you must get certified first. This means that you will have to undergo the proper training to be eligible to take the evaluation exam and get your name entered into the Oregon Nurse Aide Registry.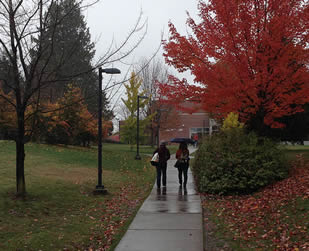 To be enrolled in a state-approved nursing assistant 1 training program, you must be at least 18 years old and possess a high school diploma. It is also important that you are sound of mind and physically capable of handling patients. Remember that each program has its own set of requirements. There may be some programs that will require you to take an entrance exam before you are accepted.
Once you are enrolled, you will be spending the next 10 to 13 weeks entering lectures, laboratory works, and going in clinical duties. Before you can handle any patients, you must spend at least 24 hours taking up concepts like patients' rights, emergency and safety procedures, interpersonal and communication skills, infection control, mental health, and basic care.  To complete a program, you must meet their required 75 hours of lectures and 75 hours of clinical practice, and pass the final exam.
By completing a certified training program, you will now be allowed to challenge the competency exam. This exam consists of a 77 multiple-choice knowledge test, in which you must answer all questions within 90 minutes, and a return demonstration of selected nursing procedures. To receive your license, you must pass all tests within three attempts. If you failed after the third try, you must recomplete another program before you care enroll again.
Having a CNA 1 certificate does not only let you work as a nursing assistant, it can also open further opportunities. If you want to receive the duties of being able to give to the clients/patients non-injectable medications, you can try to become a CMA or a certified medication aide.
Before you can start working as one, you will have to get certified. This again will mean that you must enroll in a CMA training course and pass a competency exam. To be eligible for enrollment, you must have an unencumbered certificate and have worked for at a minimum of 6 months as a nursing assistant working under the supervision of a registered nurse.  For more information on how to be a CMA, you can follow this link: http://www.oregon.gov/osbn/Pages/cnacertification.aspx#Refund_Policy_Certificate_Fees.
This city is part of Klamath County. It was originally called Linkville. The name was changed to Klamath Falls back in 1892. As of the 2010 census, their population is now around 20,840. Their total area is 19.8 sq mi where all of it is land. It has a population density of 1,052.2/sq miles. Its sister city is in New Zealand.
Examples of health care facilities that you can access in the city include Klamath Walk In Care Center, Klamath Medical Clinic PC, Klamath Family Practice Center PC, Klamath Pediatric Clinic PC, Srch Chiropractic Clinic, Klamath Women's Clinic, Klamath Surgery Center, Basin Immediate Care, Klamath County Department Of Public Health, Beaman's Wellness Center P.C., Cascades East Family Practice, Klamath County Mental Health Division, Alliance Behavioral Health, Klamath County Extension Service. photo attribution: ufv