The nursing assistant programs offered to students in Oregon City, Oregon is listed below. You can find OSBN approved classes of two different training levels in the list. To learn more you can go to the address or contact the number provided for more information about becoming licensed, class schedules, and tuition cost.
Clackamas Community College
19600 South Molalla Ave.,
Oregon City, OR 97045
(503) 657-6958
http://www.clackamas.edu/
Willamette Falls Hospital
1500 Division Street,
Oregon City, OR 97045
http://oregon.providence.org/
[Level 2 Nurse Aid Program]
If you want to help people especially with their health, you should think about becoming a nursing assistant in Oregon. This is considered to be one of the best ways to get a career started in healthcare. According to the Oregon Labor Market Information System, the demand for this profession will reach a total growth of 24.2% by the year 2016.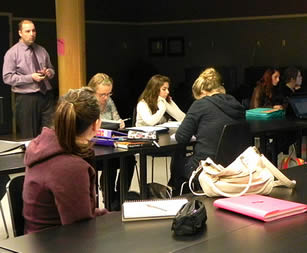 Aspiring nursing assistants must be able to meet the requirement to be enrolled in an OSBN-approved training course. The aspirant must be at least 18 years old, be mentally healthy as well as physically capable of handling patients, have a clean record, and for some training facilities- a high school diploma. Depending on the institution you enroll in, you can spend from $400 to as much as $1,000 for your training.
Approved training courses in Oregon are required to offer no less than 150 hours of training. They are also using the curriculum that was developed by the Board of Nursing. This curriculum includes the important topics that were required by the federal government such as basic care, communication and interpersonal skills, infection control, mental health, safety and emergency procedures, patients' rights, and has also added a special emphasis on the proper care of the elderly or geriatric clients.
It can take you somewhere between 10 to 13 weeks to complete your training. As soon as you do, you can then apply for the competency examination. If you pass this exam, your name will be added into the Registry and you will be given your CNA 1 certificate. Only those who have a valid certificate are allowed to work as a nursing assistant. The competency exam will always consist of two parts. If you fail in even one, you will be required to retake. Every candidate is given a total of three attempts to pass. These attempts must also be done within 2 years of completing the training course.
The competency exam in the state of Oregon is conducted by the Headmaster Testing Service. The exams are available throughout the entire year. When scheduling for your exam date, you are not allowed to pick a date that is within 21 days from the day you submitted your application for the exams. For any questions, you can call Headmaster at (800) 393-8664, or download a copy of the candidate handbook at: http://www.hdmaster.com/testing/cnatesting/oregon/orformpages/ORCandidateHandbook.pdf.
This city was known as the first city in the U.S. west of the Rocky Mountains. It is the county seat of Clackamas County. As of the latest census, which was of 2010, their population has now grown up to 31,859 people.  Major roads that you can find in the city include Interstate 205, OR 43, OR 99E, and OR 213. It has a total area of 8.4 sq miles and a population density of 3,163.9/sq miles.
Examples of health care centers you can find in the city include Willamette Falls Medical Group-Oregon City, Oregon City Medical, Pacific Medical Group, Clackamas County Clinics – Oregon City Center, Clackamas County Medical Society, Pacific Medical Group – McLean, Cascadia Behavioral Health, and GE Healthcare. photo attribution: ufv