The nursing assistant facilities providing training in McMinnville, Oregon are shown on this page. Included in the page are different level 1 and level 2 nursing assistant classes that you can enroll in. Programs shown are OSBN approved.
M. Williams, RN
421 South Evans,
McMinnville, Oregon 97128
[Level 1 and Level 2 Nurse Aid Programs Available]
Life Care Center of McMinnville
1309 27th St,
McMinnville, OR 97128
(503) 472-4678
http://www.lcca.com/247/
Willamette Valley Medical Center
2700 Stratus Ave.,
McMinnville, Oregon 97306
(503) 472-6131
http://www.wvmcweb.com/
[Level 2 Nurse Aid Program]
The first part of the process of becoming a nursing assistant is to enroll and complete a 150-hour training course. These hours will be divided equally into lectures/laboratory works and clinical duties. It can take you 4-6 months to complete your training. Before you graduate, you must also pass the final exam.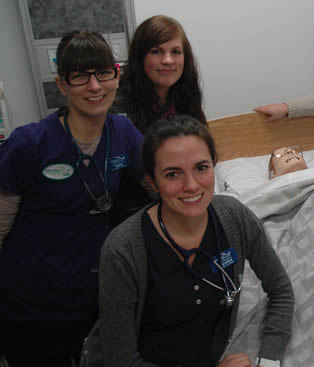 After your training, the next step is to apply for the license exam. You can either do this by sending your downloaded application packet to the Board of Nursing or coordinate a schedule with your nursing instructor. Aside from paying the initial testing fee of $106, you will also need to send $52 for the fingerprinting process. If you want to take an oral exam instead of the written exam, you will need to pay an additional $32.
The first part of the exam is the written exam, which is also offered in an oral version. In this portion of the exam, you will be given a total of 90 minutes to answer 77 multiple-choice questions.  The second portion is the clinical skills tests. You will be asked to perform 5 nursing procedures in front of a nursing assistant evaluator.  The first of the procedures will always be proper hand washing. The other four are randomly selected from a set list. You can find a complete list and other information about the exams in the Oregon Nursing Assistant Candidate Handbook (http://www.hdmaster.com/testing/cnatesting/oregon/orformpages/ORCandidateHandbook.pdf).
If you pass all both portions of the exam, you will gain entry into the Nurse Aide Registry and you will receive your nursing assistant certificate. No individual is allowed to work as a nursing assistant prior to being certified. Breaking this law can result in a civil penalty of $5,000.
Your CNA certificate is only valid for 24 consecutive months. A notice is sent out by the Registry at least 1 month prior to the expiration. The expiration of nursing assistant certifications in this state has always fallen on the owner's date of birth.  To renew it, all you have to do is to meet the 400 working hours requirement, pay the renewal fee, and submit the renewal application forms.
This is the county seat of Yamhill County. It has a total population of 32,187. It is considered the largest city in the entire county. It is just a few miles southwest of Portland. It has a total area of 9.9 sq miles and a population density of 2,675.8/sq miles. This city is also around 50 miles from the Pacific Ocean.
Health centers in the city include Yamhill County Chemical Dependency, Yamhill County Public Health Services, Yamhill County Public Health Services – HIV, McMinnville Immediate Health Care, Yamhill County Public Health Services – Communicable Diseases & Tuberculosis, McMinnville Surgical Center, Northwest Urological Clinic-Physicians & Surgeons, and The Marshall Group LLC. photo attribution: ufv