The nurse aide schools offering their training in Pendleton, Oregon are shown to you on this page. Courses must be approved by the Oregon State Board of Nursing in order to qualify one to take the level 1 exams. Call a representative to get more details.
Blue Mountain Community College
2411 NW Carden Ave, Pendleton, Oregon 97801
(541) 276-1260
https://www.bluecc.edu/loc_pend
According to the Nursing Home Reform Act, all aspiring nursing aide are now required to complete the nursing aide/assistant competency evaluation program. This involves them taking an exam, which consists of a knowledge test and a skills test that were designed to test them of their competence to perform as a nursing aide.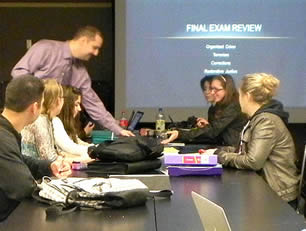 The competency exam is only available to those who were able to establish eligibility by receiving the proper training. You may apply for the exam is you have:
•    Completed an Oregon State Board of Nursing –approved training course within the last 2 years.
•    Completed an approved training program in a different state that meets the standards and requirements of the federal government, within the last 2 years.
•    Graduated from a nursing school within the last 3 consecutive years. The school may either be within the United States or abroad.
•    Completed training as a medic or a military corpsman within the last 2 years and has acquired within that time a total of 400 paid working hours.
When applying for the competency exam, you can download the complete application packet online from the Board's official website at www.oregon.gov/OSBN. You can also use the packet that was given to you by your nursing instructor, since most training facilities provide this. Once you complete all the forms and send it to the OSBN address, which is shown at the top of the application forms.
Documents that are required to be sent along with the forms include:
•     Completed Fingerprinting Identity Verification Form
•    Fingerprint card
•    Proof of training completion
•    Non-refundable fees for the exams and the national background check.
To get your CNA 1 certificate, you must pass the knowledge/oral test and the clinical skills test. On the day of the exam, you must arrive at the testing areas at least 30 to 20 minutes before the actual schedule to avoid being late. Late comers will no longer be allowed to take the exam which they are late for.
Each state is responsible for their ways of implementing the content of this Act; and in Oregon, it is against the state law to work as a nursing aide without a license. If you violate this law, you may be charged for a civil penalty that may reach up to a fine of $5,000.
This is a city that is part of Umatilla County. It is also the county seat of Umatilla. According to the census of 2010, their population is now about 16,612 people. The city got its name from George H. Pendleton. It has a total area of 10.1 sq miles where all of it is land. It also has a population density of 1,627.2/sq miles.
Health centers that you can find in the city include Iroquois Memorial Hospital, DaVita-Peritoneal, Trinity Medical Wellness Clinic, Marco Healthcare Center, Quick Care, Coastal Children's Clinic, Behavioral Health, CCHC Urgent Care, Johnson Medical Clinic, Orlando Foot & Ankle Clinic, and Wise Pediatrics. photo attribution: ufv