The OSBN approved nursing assistant training programs found in Grants Pass Oregon are all listed below. These courses are required to be approved of and are mandated by the Oregon State Board of Nursing. Call the facility to learn more about how you can join.
Royale Gardens Health and Rehab
2075 NW Highland Ave.,
Grants Pass, Oregon 97526
(541) 476-8891
http://www.pinnacle-healthcare.com/
The completion of an OSBN-certified nursing aide 1 training program is the initial step towards becoming a nursing aide. These programs are required to offer 75 hours of classroom instructions and another 75 hours spent in clinical training. The concepts that will be taught to you by the program can be seen by visiting this site: http://www.oregon.gov/OSBN/pdfs/policies/nacurr_1.pdf. For a program to be approved, it must follow the curriculum that was provided by the state's Board of Nursing.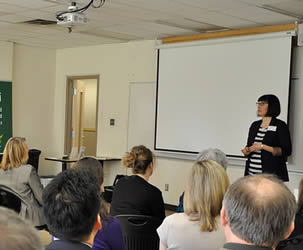 After you complete your training, you will then be allowed to apply for the license exam. You can get the application forms by visiting the state's official website or you can schedule the date for your exam through your nursing instructor. A medic that was trained by the military can directly apply for the license exams if he was able to acquire a total of 400 paid working hours within the last 2 years.
The license exam consists of a written and a skills evaluation of some of the nursing skills that were taught in the training program. If you have some difficulty with written English, you can request to have an oral exam instead. If you feel that you are not ready, you can postpone your exam date for up to 2 years from the completion of your training. If you fail on your initial attempt, you are given another two chances to pass. Failing for the third time means that you will no longer be allowed to retake the test unless you undergo retraining.
To get your CNA 1 license, you must pass all the portion of the license exam. If you pass all the tests, you will get your license in the mail within 10 working days from your exam date. If you failed, you will receive in the mail instead your scores and areas where you need improvement.
Your nursing aide 1 license will be valid for only 24 consecutive months. The expiration of your license will fall on midnight of your birthday. A notice, along with the renewal forms, will be sent to you at least 1 month from the expiration date. With the new system, you can also renew your license online. A lapsed license is considered expired and can only be reactivated by taking the competency exam. To know if this process if appropriate for your license, please call the OSBN at (971) 673-0685.
This city is the county seat of Josephine County. As of the latest census, their population has now reached up to 34,533. You can find this city on Interstate 5, just northwest of Medford. The Rouge River can also be seen just a few miles from here. They have a total area of 7.7 square miles and a population density of 3,032.8/sq miles. The sister city of Grants Pass is Robstsovsk, Russia.
Examples of health clinics that you can go to in the city include Grants Pass Clinic LLP (541) 476-6644, Cascade Surgery Center LLC (541) 479-2824, Grants Pass Surgery Center LLC (541) 472-4880, Valley Immediate Care LLC (541) 479-1090, DaVita Inc. (541) 476-0291, ASANTE WORK HEALTH (541) 956-6250, Grants Pass Clinic (541) 474-2001, and Josephine County Public Health Department (541) 474-5325. photo attribution: ufv