The certified nurse aide training programs in Clackamas, Oregon are listed on this page. Included in the list are all the available certification classes that will enable you to take the CNA 1 examination to be allowed to work in health care facilities in the state.
Kaiser Sunnyside Medical Center
10180 SE Sunnyside Rd., Clackamas, Oregon 97015
(503) 652-2880
https://healthy.kaiserpermanente.org/
A certified nursing assistant is an individual who was able to get an Oregon CNA license by completing the required training and passing the competency examination afterwards and gain entry into the state's NAR. The term CNA is considered generic in the Oregon and may refer to either a CNA1 or CNA2.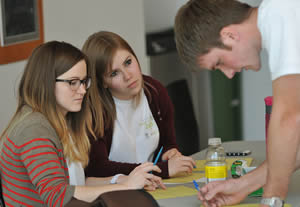 Being a nursing assistant 1 means that you were able to complete a level 1 nursing assistant training course and pass its corresponding license exam. These courses offer a minimum of 150 hours of training, which are divided into lectures and clinical practice. The scope of training for nursing assistant 1 mainly focuses on the assistance of the patient's activities of daily living such as bathing, dressing, ambulating, feeding, toileting, and other tasks like taking of vital signs, doing ROM, and performing emergency procedures if needed.
If an individual holds a certified nursing assistant 2 certificate, it means that he is also a current holder of a nursing assistant 1 certification and was able to acquire additional training and pass the corresponding competency evaluation exam.
Another advance certification option that is available in the state is to become a CMA. To become a medication assistant, you must have worked for at least 6 months full-time as an experience nursing assistant or at least an equivalent experience working in part-time employment. If you have the necessary amount of experience, you will be eligible to enroll in a state-certified medication assistant training course. After completing the course, the next and final step is to pass the competency exam and get your license.
CNA licenses are only valid for two years. Since this is the basic certification, an expired CNA 1 license will also result in the expiration of the CNA2 and CMA licenses. To renew your nursing assistant 1 license you must be able to provide proof that you had worked for a total of 400 hours as a paid nursing assistant and pay the necessary fee.
In addition to the 400 hours of work that a CMA who wants to renew his license, he will also have to participate in an additional 8 hours of continuing education that is related to medication before the 24 months are up. These may be facility-based classes, medication classes taught by nurses or pharmacists, or some video material that was presented by an instructor.
Clackamas is a suburb of Portland, OR. It is a CDP in Clackamas County. As of last year, their population has now reached up to 5,177. You can find the Camp Withycombe, which is a military base, here in this CDP.  It has a total area of 2.1 square miles where all of it is land. It also has a population density of 2,425.3/sq miles. Major highways that you can find along Clackamas include Oregon Route 212, and Interstate 205.
Health care centers in the area include Pregnancy Resource Centers, Willamette Falls Medical Group-Sunnyside, Sono Bello Laser Liposuction & Body Contouring, Willamette Falls Immediate Care, Sunnyside Health Center, Valley View Medical Clinic, Cascadia Behavioral Healthcare, Lee Raymond S Doctor of Osteopathi, Kaiser Permanente Health Care, Therapeutic Associates Clackamas Physical Therapy, and Nguyen Yen DO. photo attribution: ufv