The available nurse aide training courses in Lakeview, Oregon are provided in the list below. These classes are OSBN recommended and will allow the student who passes to qualify for the Level 1 tests. Contact the school through the number provided for nurses aide tuition costs, and program requirements.
Lake District Hospital
700 South J Street,
Lakeview, Oregon 97630
(541) 947-2114
http://www.lakehealthdistrict.org/
ltc@lakehealthdistrict.org
A nursing aide can be defined as a paid individual who does simple and routine nursing care to the patients, while under the supervision of a registered nurse. The tasks that a nursing aide does depend on the procedures that fall within his scope of duties and what the nurse delegates.  This profession is one of the increasing careers in the field of health. That is why newly certified CNAs will have no problems looking for a job.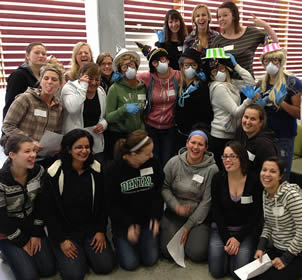 If you want to start this career, you will have to receive the proper training and education from a level-1 nursing aide training program. These programs are offered by different training institutions such as nursing homes, hospitals, community technical colleges, private schools, and some even offer their classes online. Before you enroll in one, you must make sure that the program is approved by the Oregon State Board of Nursing.
After you complete your training, the next step is to apply for the evaluation exam. This exam consists of a knowledge and skills test, which were designed to determine your competency to work as a nursing assistant in terms of both knowledge and skills. The results of the tests are usually released within 10 business days from your exam date. If you pass all the tests, you will be allowed to work as a nursing assistant. Your CNA certificate will be sent to you through the mail.
By the time your certificate will arrive at your address, your name would have already been entered in the state's Nurse Aide Registry. If you want to know in advance about your score, you can go online and visit http://osbn.oregon.gov/OSBNVerification/. Once you are there, you can search your record by using the name search. The license number search is mostly done by hiring employers to verify the status of their applicants.
A different way of being listed in Oregon's NAR is by applying for reciprocity. This process is only available to those nursing assistants from a different state with clean records and has completed 400 hours of qualified work within the past 2 years. If the applicant has only been certified for less than a year, then the working hour requirement is waived. To apply, please download the endorsement packet at: http://www.oregon.gov/OSBN/pdfs/form/cnaendorse.pdf.
Lakeview is a city that is situated in Lake County, Oregon. According to the 2010 census, their population has now reached up to 2,474 which went down by 200 people from 2006. It is also the county seat of Lake County. You can find this city in Goose Lake Valley which is at the foot of Warner Mountain. Their total area is around 1.6 sq miles. They have a population density of 1,582.7/sq miles.
Health centers that you can find within the city include Lake County Medical Clinic 541-947-3366 , Lake Wound Clinic 541-947-7299 ‎, Lake County Mental Health 541-947-6021 ‎, Lake Aesthetics Center 541-947-7299 ‎, Warner Mountain Indian Health 530-279-6194, Waikwong's Chiropractic and Wellness Center 541-947-7779, and Dr. Spencer A. Clarke, MD 541-947-3366. photo attribution: ufv