The CNA Training programs in Newberg, Oregon are listed on this page. This page includes all the current nursing assistant classes that are being offered at the moment. All course provided in the state must be OSBN certified to allow applicants to qualify to take the level 1 test.
Newberg Care Home
1500 East First,
Newberg, OR 97132
(503) 538-9436
A nursing assistant or a nursing aide is an individual who helps a licensed nurse in taking care of the patients/clients by assisting in offering nursing care. Since nursing aides work under the supervision of the nurses, they will only perform the tasks that the nurses delegate.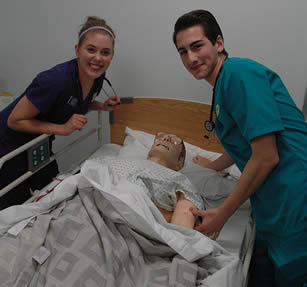 As compared to nurses, the scope of duties or tasks that a nursing aide can do is fairly limited. The nursing procedures that they do are often simple and routine. They can assist in giving basic care such as bed baths, assisting in activities of daily living, take and monitor the vital signs and other measurements, promote safety and independence, and sometimes assist in emergency procedures when necessary.
If a nursing aide wishes to increase his duties, he can become a nursing assistant 2 in the state of Oregon. This will involve completing a CNA 2 training course and take the competency evaluation exam afterwards. Since there are three different types of level-2 nursing aides (acute care, restorative care, and dementia care nursing aides), the nursing aide will have to determine which training curriculum he wants to enroll in. It is however, possible to be certified in all three kinds of classes.
The duties and tasks that a nursing assistant 2 can do include, but are not limited to:
•    Tasks involving interpersonal skills and communications
•    Observing and collecting pain responses
•    Tasks involving the relief of the patient's/client's pain
•    Provide comfort measures when needed
•    Make plans of activities that involve the patient's pain
•    Applying of compression devices
•    Bladder scanning
•    Urine dip stick testing
•    Discontinuing catheters
•    Obtaining samples
Nursing aides still work under the eye of a licensed nurse. They are also not allowed to give any medications. If you want to give them, then you must be trained and get certified as a CMA or a certified medication assistant. Like the basic and other advance certifications, you will need to complete an appropriate program and pass its competency exam.
If you wish to find out more about becoming a nursing aide or get its advance certifications, you can call the Oregon State Board of Nursing at (971) 673-0685 or email them at Oregon.bn.info@state.or.us.
The city of Newberg is part of Yamhill County. It is situated in the Portland metropolitan area. According to the census of 2010, their population is now about 22,110. This makes them the second most populated city in the entire county of Yamhill. They have a total area of 5.0 sq miles and a population density of 3,599.4/sq miles.  You can find this city 25 miles southwest of Portland. Major roads that you can find near this city are Oregon Route 99, Oregon Route 219 and Oregon Route 240.
Examples of health care centers that you can find in the city include Arbor Oaks Terrace Memory Care, Chehalem Medical Clinic, Spensley Patrick A MD, Stoltzfus Paul S Psyd, Villa Medical Clinic, Providence Resource Line, Hapkins Sarah M Psyd, Shannon Brigman, M.D. Pediatrics, Women's Healthcare Associates LLC, and Yamhill County Chemical Dependency. photo attribution: ufv