The CNA training open for enrollment by schools in Milwaukie, Oregon are shown to you on this page. If you have any questions about how to become a nursing assistant, class schedules, or program costs, just contact the number provided or you can email them instead.
Marquis Companies
4560 SE International Way, Suite 100, Milwaukie, Oregon 97222
(971) 206-5212
nkoerner@marquiscompanies.com
http://www.marquiscompanies.com/
[Level 1 and Level 2 Nurse Aid Programs Available]
To ensure that patients receive only top quality care from nursing aides, nursing aides are now required to undergo proper training before they are to handle the patients. Practicing as a nursing aide before being certified is against the Oregon law. Breaking this law may result in a civil penalty that may reach up to $5,000.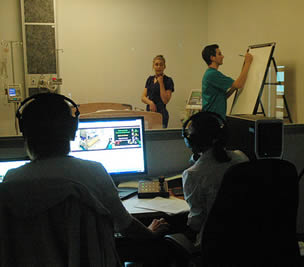 To be certified, you will have to get into the Nurse Aide Registry. One way to gain entry into the Registry is by passing the nursing assistant competency evaluation program examination, which is only available to those who received the proper training. You can get the training you need by completing a level-1 nursing assistant training program. Before you enroll, you must make certain that the program is approved by the Oregon State Board of Nursing.
The level-1 CNA examination consists of two parts. The first part is a 77-multiple-choice written exam. This exam may either be taken online at WebEtest or by the traditional paper and pencil. The written exam also has an oral version, which is offered to those who have problems with written English. The second exam is the clinical skills tests. To get your certification, you will have to pass the two portions.
The other method of gaining entry into the NAR is by applying for reciprocity. This process is only for certified nursing aides who possess an unencumbered certificate and have worked for at least 400 hours within the last 2 years. The hour requirement is waived if the applicant has only been certified for less than 2 years.
Your CNA certificate is only valid for 24 years. It is important that you renew your license before it expires. An expired license can no longer be renewed. It can however, be reactivated by passing the competency exam. Notices are normally sent out by the Registry at least 1 month from its expiration date. Keep in mind that even if you do not receive the notice, it is still not an excuse for you not to renew your certificate. Renewal can either be done online or by sending the necessary documents to the state's BON.
The city of Milwaukie is part of Clackamas County. According to the census of 2010, their population has now reached up to 20,291 people. This city is a suburb of Portland. It has a total area of 4.8 sq miles where all of it is land. It also has a population density of 4,256.5/sq miles. Its sister city is Iwaki, Aomori, Japan.
Examples of health centers that you can avail in the city include Sandy Blvd Hemorrhoid Clinic East, Pregnancy Resource Centers, Providence Family Medicine/Milwaukie, Monterey Health Center, Laplante Druanne DO, Integrated Health Clinics, Northwest Mental Health, and Providence Milwaukie Hospital – Behavioral Health Services. photo attribution: ufv