The nurse aide training in Florence, Oregon is listed on this page. The list includes all the recent school classes that are being provided in the city. For more information just contact the number provided and talk with an admissions representative.
Lane Community College Nurse Aide Training Program
3149 Oak Street, Florence, OR 97439
(541) 463-3000
http://www.lanecc.edu/florence
According to the Nursing Home Reform Act, which was adopted as a part of the OBRA of 1987, all individuals who are seeking to become a nursing assistant must enroll and complete a state-approved nursing assistant training program. The purpose of the training programs is to ensure that the nursing assistant candidates know and understand the standards and be able to competently perform the tasks of a nursing assistant.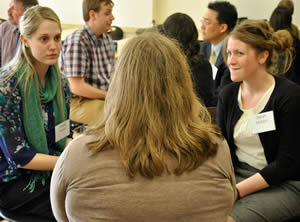 To ensure that the students receive standardized education and training, training institutions must be approved before they are allowed to teach any students. In Oregon, the Board of Nursing is the one that is in charge of this task. Facilities that wish to offer nursing assistant 1 training programs must offer at least 150 hours of training. These hours will be divided equally into lectures/laboratories and clinical practice. The program should also conduct a final exam before their students are allowed to graduate. The Board has also created as standardized curriculum which may serve as a basis for their program (http://www.oregon.gov/OSBN/pdfs/policies/nacurr_1.pdf).
By completing a nursing assistant training program, you will be eligible to apply for the CNA 1 license exam. The license exam in Oregon is conducted by the Headmaster Testing Company. In accordance with the federal requirements, the exam will consist of a skills demonstration and a written/oral exam. If you are able to pass all the tests, your name will be added to the Nurse Aide Registry and you will receive your license within 10 days from your exam date.
The Nurse Aide Registry is a governing body that approves/disapproves programs, implements them, and runs the abuse registry. The NAR also contains all the names of those who are allowed to work as a nursing assistant. Your status on the registry, as well as your license will remain active for 24 months. To keep your eligibility to work in a nursing facility, you must renew your license. One of the requirements is that you must provide a copy or proof that you worked for at least 400 hours providing nursing and nursing-related care to patients while under the supervision of a registered nurse.
To renew your license, you can either go online at https://osbn.oregon.gov/OBNPortal/DesktopDefault.aspx?tabindex=0&tabid=5. Certified nursing assistant 1 renewal fee will cost $60 and an additional fee for every CNA 2 category which you are registered under.
This city is part of the Lane County. According to last year's census, their population has now grown up to 8,466 residents. It has a total area of 5.5 sq miles where less than 1% of it is water. Their population density is 1,533.3/sq miles. It lies midway between the cities like Newport and Coos Bay. You can also find U.S. Route 101 running along this city.
Health centers that are available in the city includes Pacific Heights Chiropractic (541) 902-0545, Florence Chiropractic Clinic PC (541) 997-6909, Health Assoc of Peace Harbor – General Surgery (541) 997-2820, Options Counseling Services of Oregon (541) 997-6261, Catlin Sharon F Doctor of Osteopathi (541) 997-7134, Peacehealth Medical Group Orthopedics (541) 997-7104, Pacific Heights Chiropractic and Nelson William F Doctor of Osteopathi. photo attribution: ufv