The nursing assistant training classes that are available for enrollment in Toms River, New Jersey are shown to you here. Enrollment in one of these course will teach you how to care for residents in a long-term care facility, provide hands-on skills practice, and offer license exam preparation.
Prestige Medical Solutions
2008 RT 37 East, Toms River, NJ 08753
Website: www.prestigemedical.org
Phone: 800-880-1560,
Email: training@prestigemedical.org
Ocean County Vocational Technical School
1299 Old Freehold Road, Toms River, NJ 08753
(732) 473-3159
http://www.ocvts.org/htm/locations.html
Since there are two types of nursing assistants in New Jersey, you will have to choose what type of CNA program you are going to enroll in. You can either choose NATCEP or PCA. If you want to work in a long-term health care facility, then you should apply for a NATCEP CNA program. The latter program if for those that want to work in homecare.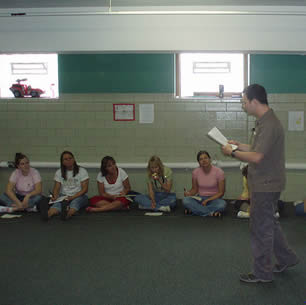 A nursing aide candidate is required to complete a curriculum that was developed by the New Jersey Department of Health. This curriculum is called Nurse Aide in Long Term Care Facilities Training and Competency Evaluation Program or NATCEP.  He may also take the Personal Care Assistants training program to work in either an assisted living center or a nursing home.
NATCEP training takes 90 hours to complete, which consists of 50 hours of classroom lectures on the different concepts of the Fundamental of Nursing and skills training on the basic nursing skills that will be used in taking care of the patients like proper hand washing, feeding with the use of tubes, assisting in daily activities, and emergency procedures. Once ready, the rest of the 40 hours will be spent on clinical practice in a long-term care facility, which means taking care of actual patients. During this time, the candidates will be under the care of state-certified clinical instructors. PCA programs take 85 hours to complete. It is composed of 69 hours of theories and 16 hours of clinical duties in a licensed assisted living facility, a personal care home, or in an assisted living program.
After completing the training, the next step is to challenge the licensing exams, which is compose of a written and a skills demonstration on some of the nursing skills that were taught during training. Before you can take it, you will need to contact PSI at 1-800-733-9267 and schedule for the exams. You may also request to have the written exams changed with an oral exam if you have any problems reading English. For those that have certain disabilities, they can request and arrange for a special exam and services.
Toms River is a township that belongs to Ocean County. This large township is also the seat of the county. This township was once known as the Township of Dover, but was later changed to a vote into its current name. With a total population of 91,239 at the last census, they are the 8th most populous municipality in the state of New Jersey. Major highways that are found in the area include U.S. Routes 9, 35, 37, 70, 166, as well as County Routes 166, 527, 530, 549, and 571.
Health care providers that are available in the township include Shoreline Behavioral Health – Community Relations, All Health Care Services Inc., Silver Bay Medical Center, Bio Behavioral Health B, Bey Lea Ambulatory Surgical Center, Forked River Medical Group, Central Jersey Behavioral Health Assoc Inc., Family Behavioral Health, Preferred Behavioral Health, Cg Healthcare Solutions LLC, STD Test Express, and many more. photo attribution: create-learning