The nursing assistant classes open for enrollment by schools in Lakewood, New Jersey that are listed here are all the state recognized instruction available at this time. Speak to a course administrator to get details about how the program can benefit you, and help you become licensed to work.
LTC Career Training
700 Rt. 70,
Lakewood, NJ 08701
(732) 364-9600
www.ltccareertraining.com/
Before you can take care of the patients and work anywhere as a nursing aide, you must first pass the license exams. However, before you are allowed or become eligible to take the exams, you must pass one of the two CNA programs that are available. When you apply for the exams, you should also state which type of program you finished.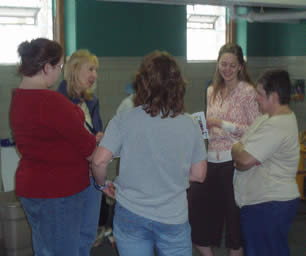 Since it was required in the OBRA of 1987 that all nursing aides and personal care assistants be certified if they want to work in a long-term healthcare facility, the New Jersey Department of Health has hired PSI, which is an independent testing facility,  to help in the administration, scoring, and the posting of the result for the license examinations. This authorized contractor is also in-charged in maintaining the state's Nurse Aide Registry and the Nurse Aide Abuse Registry.
Their physical location is at:
IBS Plaza South
3525 Quakerbridge Road,  Suite 1000
Hamilton Township, New Jersey 08619
(877) 774-4243
You can contact PSI to:
•     Ask for a copy of the Candidate Information Bulletin
•    Get their hours of operation and the location of their testing centers
•    Update your information such as name or address, before exam results are sent to the Registry
•    Request information about the licensing exams
•    Request a copy of your score card
•    Request an examination application form
PSI also has a website that you can visit: http://www.PSIEXAMS.com. Available features include:
•     Downloadable copy of the examination application
•    Downloadable copy of a Candidate Information Bulletin
•    Downloadable sample of a Nurse Aide Practice Written Exam
•    Order non-secure materials
•    Check the Registry regarding the status of a nursing aide or a personal care assistant.
For those who are applying for the nursing aide license exams, they will also need to contact PSI at 1-800-733-9267 and make the exam reservations. If they had already scheduled and exam, they may call the same number to either cancel or change its schedule. For those who require special considerations during exams, they may request for special services.
Lakewood is a township that is located in Ocean County. This township was formed from part of Brick Township during the Act of the New Jersey Legislature on March 23, 1892. With a total population of 92,843 people during the latest census taken, they are the 7th most populous township in the state. The township has a total area of approximately 24.982 sq miles and a population density of 3,777.7/sq mile. Nearby places from Lakewood include Jackson Township, Howell Township, Brick and Toms River Townships.
Health care facilities that can be found in the area include Preferred Behavioral Health, Lifespan Behavioral Health Services, New Future Dreams LLC, Shore Health Care, Preferred Behavioral Health of NJ Inc., Tender Touch Health Care Services Inc., Advanced Behavioral Care Services LLC, NASA Health Care, Alpha Health Care, and Comprehensive Healthcare. photo attribution: create-learning