The active nursing assistant schools enrolling students in Elizabeth, New Jersey that are available as of the making of this page are all listed for you here. Those who enroll in one of these state recognized programs will receive basic health care procedural training and be eligible to take the license examination upon completion.
B&M Career Center
214 Commerce Place,
Elizabeth, NJ 07201
(908) 355-9315
http://www.bmconsults.com/
Branford Institute
570 North Broad Street,
Elizabeth, NJ 07208
(908) 352-1004
http://www.branfordinstitute.org/
Claire Caring Institute
1139 East Jersey Street, Suite 219,
Elizabeth, NJ 07201
(908) 994-9199
Workforce Advantage
49 Broad Street,
Elizabeth, NJ 07201
(908) 355-2288
http://www.workforceadvantageusa.com/Locations.asp
For you to be a nursing aide in New Jersey, you must first complete a CNA training program. While in the program, you will be spending a number of hours on lectures and skill training in both the classroom and the clinical area. If you finish the program, you can then try to take on the state license exams.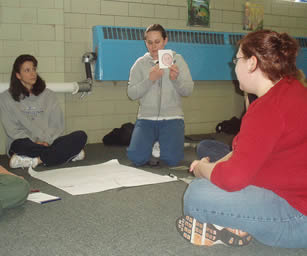 There are generally two ways for a person to get a nursing aide certificate in the state of New Jersey. One is to challenge the competency evaluation exams, while the other is to apply for reciprocity. The latter option is only for those who are already a registered nursing aide from a different state.
Before one is able to take the license exams, a person must be able to acquire the necessary training. He can either enroll in a NATCEP or PCA training program. NATCEP training is for those who want to work in long-term care facilities, while the PCA is for those that wish to work in personal care homes. Both programs consist of similar training with slight variation in the time and its allotment. For example, NATCEP training consists of 50 hours of lectures and 40 hours of practical training, while in PCA training, they lectures take up 69 hours and the clinical duties only 16.
After the training, the next step is to call PSI for the examination reservations. PSI is an independent testing company that was authorized by the NJDOH to help in the administration, scoring, and the reporting of the results. It is also in charge of running the Nurse Aide Registry of New Jersey. To make a reservation, the candidates will need to contact (800) 733-9267. They can download a copy of the application forms, as well as a copy of a NA Practice Written Examination sample. If the candidate has trouble with written English, he may ask for an Oral exam instead. The testing centers will also accommodate those that request to have special considerations for certain disabilities.
For those that are applying for reciprocity, their certification process will be entirely different, except for the mandatory criminal background investigation that is required for all nursing aide candidates. When they apply, the applications will need to provide the Department of Health proof of their certification. The applicants must also not have any records of resident abuse or neglect. All the necessary forms will be provided in the Reciprocity Application Packet, which they can get from PSI.
The city of Elizabeth is the county seat of Union County. This place was once known as "Elizabethtown" back when it was founded in 1665. The name was taken from the wife of Vice Admiral Sir George Carteret. With a total population of 124,969 people, they are the 4th most populous city in the state. It has a population density of 10,144.1/sq mile. The total area of the Elizabeth is estimated to be around 13.464 sq miles, where 1.1 square miles of it is water. Major highways that you can access from the city include Interstate 95, Interstate 278, and U.S. Routes 27, 28, and 439.
The Accredited Health Services Inc., Trinitas Regional Medical Center Behavioral Health & Psychiatry – Women's Addiction, Trinitas Regional Medical Center Behavioral Health & Psychiatry – Geropsychiatric Services, Hamandre Medical Service, New Beginnings, Prison Health Services, Central Jersey Health Care Associates, Wellness Center of NJ Harmony, Bayway Medical Center, and Elmora Healthcare & Pharmacies are examples of health care providers that are available in the city. photo attribution: create-learning