Certified nursing assistant classes located in Iselin, New Jersey are found on this page. If you want to know the requirements to pass the state exams and become eligible to work, you can call one of the programs below. Attending a state recommended course is necessary to take the license exams.
Param Institute of Education
200 Middlesex Essex Tpk, Suite #105, Iselin, NJ 08830 – (732) 404-1415
http://www.paramedu.com/
Being a CNA in New Jersey is one of the best ways for you to enter the medical field. As a student in a nursing assistant class, you will get experiences in dealing with patients in a medical setting and learn primary care skills. While on the job you get to work along side the different members of the health care team while being very close to patients. This is also a great stepping stone if you want to proceed to a higher degree.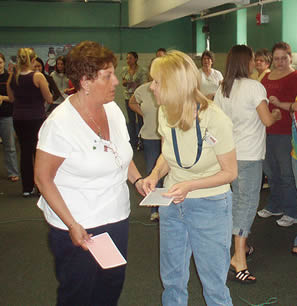 In order to work in a long-term care facility or a sub-acute care unit as a nursing aide, you must get a certification. Before you can take the certification exam, you will need to apply for it by. One of the requirements when applying is to complete a 90-hour training program. The training facility you enroll in must be certified by the state and offers NATCEP, which is the approved curriculum developed by the New Jersey Department of Health. Your training will be divided into 50 hours of lectures and laboratory work before you spend the other 40 hours doing clinical practice.
When applying for the exams, you will need to send the appropriate documents along with the completed application form. You can get a copy of the application forms by downloading it from the PSI website at http://www.PSIEXAMS.com. You can also get from this website a copy of the Candidate Information Bulletin, sample practice written exam, and you can search the Registry to verify a nursing aide or a personal care aide's status.
Once you completed the necessary documents, you will need to call PSI at 1-800-799-9267. You can also call them if you want to cancel or change your examination schedule, request for a special exam, or correct or update personal information if your name is already in the Registry. For those who lost or want to get a copy of their CNA license with the updated information, they will also need to contact PSI but at 1-877-774-4243.
The license exam is composed of a written and a skills demonstration exam. If you have any problems with reading English, you may request to get an oral examination instead. In accordance to the law, PSI also offers special exams for those who need additional assistance, such as those with certain disabilities or need some consideration.  By passing both parts of the exam, your name will be entered on the state's NAR and will receive your license, which is valid up to 24 months.
Iselin is a census-designated place that is found in Middlesex County. To be specific, you can find this CDP in Woodbridge Township. According to the census of 2010, their total population had reached up to a total of 18,695 people. They have a population density of 6,030.6/sq mile. The total area of the CDP is etimated to be around 3.1 sq miles, where all of it is land.
Health care providers that are serving Iselin include Raritan Bay Medical Center, Hoffman Samuel DR, National Health Care Resources, Oxford Health Plans, Medical Pavilion At Woodbridge, Avenel-Iselin Medical Group, P.A., Medical Associates of Marlboro PC, Health Med Medical Group Associates, Cardiology Consultants of Woodbridge, and Allergy Treatment Center of New Jersey. photo attribution: create-learning