The certified nurse aide classes in Wayne, New Jersey that are shown here can give you training to know the proper methods for handling patients. Course are required to be authorized by the state registry and offer both theory based instruction as well as hands-on skills practice.
Passaic County Technical Institute Adult and Continuing Education
45 Reinhardt Road,
Wayne, NJ 07470
(973) 389-4100
http://www.pcti.tec.nj.us/
CDM Institute Nursing Assistant Course
40 Galesi Drive,
Wayne, NJ 07470
(973) 785-1234
Being a CNA in New Jersey is a great way for you to enter the medical field. CNA certifications in the state have open new job opportunities to the people there. They can choose from two different types of programs that are based on where they wish to work afterwards. This is also a great stepping stone for those that wish to pursue a much higher degree in the medical field.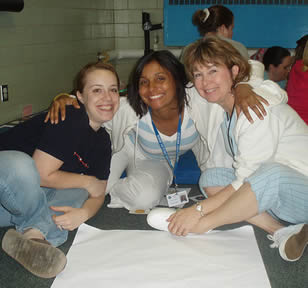 In accordance to the law, all nursing assistants who were recently hired must be subjected to a Mantoux test. This test will be done by either a physician or an advanced practice nurse no less than two weeks before the start of duty. There are some facilities that will do the test immediately upon hiring. If it was done upon employment, the examination may be deferred up to 30 days before the start of work.
This test is not only limited to nursing assistants but is a mandatory screening for all new employees. The test will be a two-step Mantoux tuberculin skin test that includes 5 tuberculin units. The only employees that are exempted from this test are those that got a negative on a two-step Mantoux skin test within the last year, those who got a positive in the same tests, and those who were able to get the necessary treatment for tuberculosis.
A Mantoux test determines whether a person has tuberculosis or not. The test if positive if the results yield at least 10 millimeters of induration.   If positive, a chest x-ray will be done to support the findings and if necessary, this will then be followed by chemoprophylaxis.
An employee with a positive result will be referred to either his personal physician or to the hiring facility's contracted physician. If the tuberculosis is active or at least suspected to be, he will be asked to refrain from work up until the physician deems it fine to go back.
The Directors of Nursing has viewed this law as an extended requirement to the students who will also handle the patients during the clinical portion of their training. As a result, nursing assistant candidates are also required to undergo this testing. The test will be done before the student starts class.
This is a township that is in Passaic County. You can find this township a few miles from Midtown Manhattan. The township was formed from parts of Manchester Township during the Act of the New Jersey Legislature on April 12, 1847. According to the last census taken there, the total population had reached up to a total of 54,717 people. The total area of Wayne is estimated to be 25.174 sq miles, in which 1.4 square miles of it is water. The estimated population density of the township is 2,306.0/sq mile. There are a few major roads that cross this area, they include Interstate 80 and U.S. Routes 46, 202, and 23.
The Comprehension Women Healthcare, Serv Behavioral Health, Internal Medicine Associates of North Jersey, Blackstone Medical Inc., Christian Health Care Adult Day Services, Healthcare Centers of Wayne Inc., Emerald Health Care Services Inc., Psychological Solutions, Passaic County Medical Society, Creative Living Counseling Center, Creative Living Counseling Center, and STD Test Express are some of the many health care providers that are located in the area. photo attribution: create-learning