The CNA schools conducting instructional courses that are located in Irvington, New Jersey are listed here. Those listed here are all the state authorized programs offered by colleges, high schools, and community training centers located in this city. Speak to an administrator to learn more about enrollment.
C and C Nurse Aide Training School
1068 Clinton Avenue, Suite 201,
Irvington, NJ 07111
(973) 373-6667
Receiving a CNA certification in the state of New Jersey has opened up a great opportunity for those who wish to enter the health care field. Getting certified to work and gaining experience in the medical field can be done relatively inexpensively and in a matter of weeks. Being a nurse aide is also a great foundation for those that wish to aim for must higher degrees in the health care profession.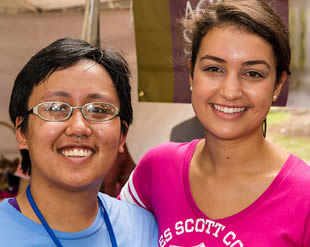 There are several different ways to get a CNA certification in the state of New Jersey. The most common way is to complete a state-certified training center that offers NATCEP. NATCEP takes 90 hours to complete. This training program consists of 50 hours of classroom instructions and 40 hours of clinical duties. By completing the curriculum developed by the Department, you will be able to take on the license exams which will give you access into the Nurse Aide Registry if you pass all the tests.
Another option of getting a nursing assistant certification in the state is to apply through vocational or alternative routes. Nursing graduates, foreign licensed nurses, and medics, who gained their training in the military, and are able to provide proof of their successful completion of the Fundamentals of Nursing can also take the nurse aide license exams that are offered by PSI. Individuals who were able to complete and pass the Fundamentals of Nursing within the last 12 months may also apply.
When they what to apply for the license exams, they will need to send the required documents to:
Certification Program
Division of Health Facilities and Evaluation & Licensing
New Jersey Department of Health
PO Box 358
Trenton, NJ 08625-0358
The final option of gaining a nursing assistant certificate that is valid in the state of New Jersey is to apply for reciprocity. This option is only valid for those nursing assistants who are currently registered in a different state. Like the other applicant, the nursing assistant must be able to provide proof of his training and education to the NJDOH and pass the CBI.
This township is a part of Essex County. The area that this township is located was once known as Camptown. This township once came from parts of Clinton Township. The current name of the community was taken from Washington Irving. According to the last census, their total population was at 53,926 people. They have a population density of 18,417.0/sq mile. The total area of Irvington is estimated to be around 2.930 sq miles, where almost all of it is land.
Examples of health care centers that are found in the area include Dental Health Associates PA, Gateway Pregnancy Center Inc., Mental Health Association of Essex County, Medical Office, Newark Community Health, Hope Center, Community Helthmark LLC, Unique Medical Staffing LLC, New Hope Behavioral Healthcenter, Grove Street School Grove Street School – Medical Office, CT Healthcare Srv LLC, and many more. photo attribution: jkd_atlanta