The schools in Franklin, Virginia that are approved to teach nurse aides to become certified are shared below. For more information about enrolling in medical training in the city of Franklin, please call the number for one of the schools below.
Paul D. Camp Community College Nursing Assistant Course
100 North College Drive
Franklin, VA 23851
(757) 569-6732
(Multiple classes are being offered)
Franklin High School
310 Crescent Drive
Franklin, VA 23851
(757) 562-5187
The demand for healthcare providers, especially nursing assistants, is constantly increasing. This increase is believed to continue up until the end of the decade. If you're looking for work in this field, then you might want to consider becoming a nursing assistant.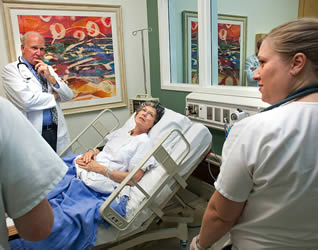 Nursing assistants are important members of the health care team. They assist registered nurses in providing nursing and nursing-related care to patients who are in different healthcare settings, which includes the patient's own home. The tasks that they perform will depend on what the nurse delegates.
The first thing you'll need to do to become a nursing assistant is to equip yourself with the necessary knowledge and skills that you may use when taking care of the patients. One of the best ways to get the training that you need is to enroll in a state-certified CNA program. Approved programs are required to offer at least 75 hours of lectures and supervised clinical practice. They must also be headed by a registered nurse with at least 2 years of nursing experiences working in a long-term care facility.
Requirements to get into a CNA program:
–    Be at least 16 years old
–    Must know how to read and write
–    English competency is a must since most patients will be speaking the language
–    Must pass the criminal background checks
–    Must be physically healthy and free from any communicable diseases
Examples of the topics that they teach in these programs include, but are not limited, to the following:
–    Proper body mechanics
–    Patient's rights
–    Communication and Interpersonal Skills
–    Basic Nursing Procedures
–    Medical and Surgical Asepsis
–    Nutrition
–    Vital signs
–    Human Anatomy
–    Medical Terminologies
–    Weights and Measurements
Completing a CNA program will make you qualified to apply for the National Nurse Aide Assessment Program examination. Taking this exam is the final step in becoming a full-fledged health-care worker. The exam was designed to test all nursing assistant candidates in terms of knowledge and skills. It consists of a multiple-choice knowledge test and a skills evaluation exam.
Candidates can get a copy of the complete skills list as well as a sample knowledge test by downloading a copy of the Candidate Handbook from this link: http://www.asisvcs.com/publications/pdf/075300.pdf.
Candidates who will pass both tests will get a CNA certification issued by the state's Board of Nursing. This certification will enable you to work as a nursing assistant in any state-approved health care facility. To keep your eligibility, you must renew your certification every 2 years. No employee is allowed to continue working with an expired certification.
This is an independent city that is in Virginia. It was founded back in the 1830s. You can find this city adjacent to Isle of Wigh County and Southampton County.  According to the latest census, their total population was around 8,582 people. It has a total area of approximately 8.4 sq miles, where all of it is land. It has a population density of 999.2/sq mile.
Examples of health care centers and providers that you can find within the city include Ob-Gyn Physicians Inc. – Southampton Medical Building, Mid Atlantic Health Care Solutions, Franklin Clinic Corp, Estelle's Place, Fresenius Medical Care, Lakeview Medical Center – Franklin Office, Southampton Foot & Ankle Clinic PC, and many more. photo attribution: codnewsroom