The nursing assistant programs in Monroe, Georgia that can teach you the skills to become certified are shared below. If you have any questions about the requirements, how to enroll, or class cost, please call the number provided.
Athens Technical College Walton Campus
212 Bryant Road,
Monroe, GA 30655
(770) 207-3130
Website: http://www.athenstech.edu/waltoncampus/
The Department of Community Health has over-site in the state's Nursing Aide Training and Competency Exams. They are the ones who are responsible of choosing a State Contractor to oversee and administer the NAR and the Nursing Assistant Training Programs or NATPs. The State Contractor of Georgia is a private organization called the Georgia Medical Care Foundation (GMCF). Before you enroll in a program, you should make sure that the program is approved by the GMCF.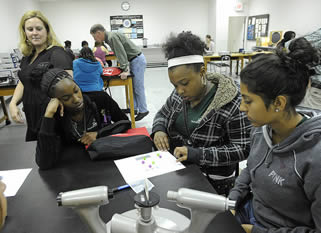 Currently programs must include 85 hours of class lectures and lab work. Of that amount 24 hours are devoted to skills experience in a medical facility. During this skills practice, applicants will be supervised by a registered nurse and use basic health care procedures. After completing a program, the candidate can then move on to apply for the license exams. Taking the license exams is a crucial step in becoming a nursing aide since the state does not allow its nurse aides to work for more than 4 months in any healthcare facility. To get their names entered in the state's Nurse Aide Registry, they must pass the written/oral and skills demonstration exam.
When their name is entered in the registry, they must maintain this status so that they will be eligible to apply for work in the state as a nursing aide. CNA licenses in this state need to be renewed every 24 months. The applicant must have worked at least 8 hours with pay during that time. If the applicant was not able to work, then they must undergo retesting in order for them to remain in the registry.  For more information, you can contact (678)527-3010.
This city is the county seat of Walton County. According to the census of 2010, their total population had reached up to a total of 13,234. Monroe has a total area of approximately 10.5 sq miles, where almost all of it is land. Its population density is around 1,086.4/sq mile.
Health care providers that you can find serving the city include Women's Health Associates of Walton PC, Walton County Clinic, Ellis Pain Management, Heras Health Care for Women, Advantage Behavioral Health Systems, Woman to Woman Healthcare Inc., Gwinnett Clinic, and many more. photo attribution: codnewsroom