The nursing assistant classes in LaFayette, Georgia that are listed on this page are all the certified for enrollment by the state registry. Contact one of the phone numbers for the schools on this page to learn more.
CNA Training Academy
107 E. Lafayette Sq.,
Lafayette, GA 30728
(706) 638-7768
Heritage Healthcare of La Fayette
205 Roadrunner Blvd.,
La Fayette, GA 30728
(706) 638-4662
You cannot work in this state without a CNA license. According to the rules, you must undergo proper training before you can apply for the license exams. Most of the programs in Georgia can be completed within 2 to 6 months of continuous training, depending on the program you enroll in. You can find that these programs are offered by government approved nursing homes, technical colleges, private schools, and even high schools. Before you enroll in one, you should make sure that the program is approved by the GMCF. This is the private contractor that was given authority by the Department of Community Health to maintain the standards of Nurse Aide Training Programs and Testing Programs for the state.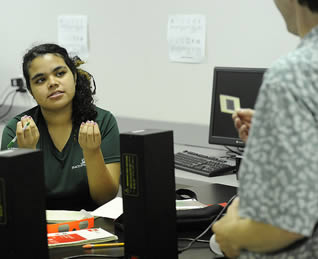 Nurse aide license holders from other states are also welcome to apply for reciprocity if they wish to work in Georgia. When they apply, they are required to have an active/valid license and a good relationship with the state they come from. They are also required to pass documents that will show proof of their training and certification.
If you are already working in a nursing facility as a nursing assistant, you are required to take the appropriate training and take the license exams within 4 months upon hiring. The nursing facilities are not allowed to hire and individual for more than 4 months unless their name is on the NAR and have a license.
The state allows certified nurse aides from other states to apply for a transfer to Georgia. The process is called reciprocity and you can visit this website www.mmis.georgia.gov to download a Reciprocity Application.
This city is the county seat of Walker County. It is include in the Chattanooga, TN–GA Metropolitan Statistical Area. According to the latest census, their total population has reached up to a total of 6,702 people. It has a total area of approximately 8.1 sq miles, where all of it is land. Its population density is estimated to be 827.4/sq mile.
Examples of health care centers that you can find in the area include Citgna Health Care, Telemetrics Corp, Walker County Mr Service, Hometown Medical Group Inc., Chickamauga Family Practice, Caron Medical Clinic, and many more. photo attribution: codnewsroom