The nursing assistant training located in Roswell, New Mexico is all found on this page. If you know of other listings that are being offered in the city that are approved by the state, you can send them to us and we will add them to the page.
Eastern New Mexico University
52 University Blvd., Roswell, NM 88203
(575) 624-7000
http://www.roswell.enmu.edu/
If you want to work in the state of New Mexico as a nursing assistant, you must first enroll in a CNA class. There you will learn all the skills and knowledge that you will need when taking care of a patient. A nursing assistant makes use of the basic nursing skills when helping the patients with their needs. Nursing assistants work under the supervision of a registered nursing in the facility that they work in. After you complete your state approved skills training you can apply to take the certification exams.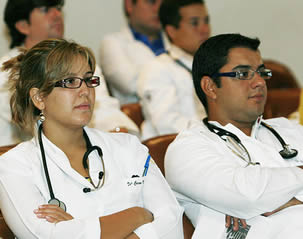 In order to work as a nurse aide in the state of New Mexico, you must have a CNA license. To get one, you must gain entry into the state's Nurse Aide Registry. There are different ways to gain entry; one option is to apply for reciprocity. This is only available for nurse aides who are currently registered in a different state.
When applying for reciprocity, the applicant will need a current or active CNA license. He will also need to provide his SS card, a valid ID or a driver's license, official mailing address, and current contact information. Copies of the requirements can be faxed to:
Delfinia Sandoval, Nurse Aide Registry Coordinator
2040 South Pacheco Street
2nd floor – Room 413
Santa Fe, New Mexico 87505
(505) 476-9026
Part of the reciprocity process is being able to pass the criminal background investigation. This investigation is done in both federal and state levels. When applying, the applicant must not have any records that will prevent in from working as a nurse aide. Examples of these cases include homicide, abuse, neglect, trafficking of controlled substances, kidnapping, rape, extortion, theft, and fraud.
If you are a nurse aide from New Mexico and wish to transfer to a different state, you will need to undergo proper verification from the Registry. To do this, you must fill out a Verification Form from the state you are transferrin to. It is your responsibility to acquire when you are applying for reciprocity. These forms are often available at the NAR business office of the other state.
Once you have the forms, fill out all the fields with your personal information and send it to the NAR of New Mexico. You can either mail the forms or send them through fax. It will take 3-4 weeks of processing to be done. The applicants are encouraged to follow-up their applications from the Registry.
This city is the county seat of Chaves County. It is located in the southeastern part of the state. It is also known as All America City. It is also called as Alien City because of the alleged UFO sightings that happed in 1947. Major roads that are accessible to the area include U.S. Routes 70, 285, and 380. According to the 2010 census, their total population was around 48,366. Roswell has a total area of approximately 29.0 sq miles, where almost all of it is land.
Health care providers that are serving this city include Classic Chiropractic Clinic, Mesa Medical Associates, Family Medicine Residency Program, Aztec Medical Group, Family Care Medical Center, Agape Home Care, Cathey Chiropractic, Roswell Regional Hospital, Roswell Osteopathic Clinic, and many more. photo attribution: agecombahia