This list offers links to all of the CNA Classes in Delaware currently being taught listed by city. Each city displays all of the health care center training programs, private medical schools, and public nursing courses. For additional information about education facility phone numbers, and addresses click on the city links below.
Before enrolling in a certified nursing assistant training program make sure the classes being offered meet state requirements and provide the proper amount of hours of instruction to qualify you to take the nurses aide exam.
CNA Classes in Delaware by City
Getting Certified as a Nursing Assistant in Delaware
Taking CNA classes in Delaware is a necessary requirement which one should take before being able to work as a nursing assistant in that state.  The government requires that one should take the program is he or she is not a nursing student or has undergone military training as a medic if one wants to work as a nursing assistant.  The training provides students with the necessary skills and information that one needs in order to provide services as a nurse aide.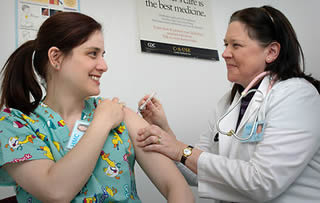 How to Get a Nursing Assistant Job in Delaware
One cannot work as a CNA in Delaware if he or she is not listed under the state's registry of nursing assistants.  Those also who have been found guilty of abuse, neglect, or misappropriation of a resident's property will also be disqualified from having any type of employment either from a facility or in private homes.  There are also criminal offenses which can disqualify someone from working as a nursing assistant such as drug, theft and violent types of crimes.
What are the Requirements to Become a CNA in Delaware
The Delaware Division of Long Term Care Residents Protection is the one responsible for the certification of Nursing Assistants as well as the approving of nursing facilities and training programs.  The state requires training programs to provide at least 150 hours of both classroom and practical training hours in order for them to be certified.
Each certified nurses aide applicant has to undergo a pre-employment drug test, as well as a criminal history check. Convictions of violent crimes, felony theft, or offenses regarding patients may result in a disqualification of employment. In addition licensed nursing assistants are required to work a minimum of 64 hours within a 24 month certification period or retest to become re-certified. You can click this link to read more about CNA certification requirements in Delaware.
The state also needs all applicants for nurses aide in nursing facilities to be registered under their registry.  This can be done by requesting for reciprocity from their office.  They will provide you with the required form and other requirements for the reciprocity.  Those who request for this service should be included in their state's current CNA registry and should also be in good standing there as well. You can also receive more information about certified nursing assistant classes by city by contacting the Delaware state nurse aide registry at (302) 577-6666.
There are several training programs available in the state for nursing assistants such as the Star Technical Institute and the Harrison Career Institute.  They provide both the education as well as the practical training that is required for the duties of the job, such as bathing, feeding, grooming, and arranging bedding as well as transport of the patient.
How Much Does a CNA Make in Delaware
CNAs can expect an hourly salary of between $10 to $17.05 depending on their location, type of employer, and length of experience on the job. The salary can actually range from these: $10.34, $11.89, $ 13.39, $15.06, and $17.05.  Hence, one can expect an annual salary ranging from $21,500; $24, 700; $27,800; $31,300 and $35,400. The job outlook for this type of employment has been growing for the past years and it is expected to continue for at least 5 years.
How Often Must Nursing Assistants Renew Their License
A certified CNA must renew his or her certification every two years as required by the state.  They should have performed at least 64 hours of paid work under the supervision of a registered nurse or physician. There is also a required 24 hours of continuing education for those who would like to renew their certification.  The state sends out the renewal forms at least 45 days before the expiration of the certification and there is no required fee for it.
Do you know of a nurses aide training program in Delaware that is not included on this website? If so contact us and let us know so we can add the information to this directory.