The certified nursing assistant classes in Hudson that are approved by the state of North Carolina and available as of the moment are shown to you on this page. For more information about their training curriculum, tuition rates, and schedules, call the number provided below and speak with a school staff member.
Caldwell Community College and Technical Institute
2855 Hickory Boulevard,
Hudson, North Carolina 28638
(828) 726-2200
http://www.cccti.edu/
All nurse aide candidates are required to list their name on the Nurse Aide I Registry. Those whose names are on the Registry were able to comply with both the federal and the state's training and testing regulations. Generally, there are three different ways to be listed on the NAR; and these include:
1.    Pass a state-certified CNA training course and challenge the competency exam.
2.    Immediately apply for and pass the competency exam.
3.    Directly apply for entrance into the Registry, which is only available for North Carolina registered nurses and LPNs.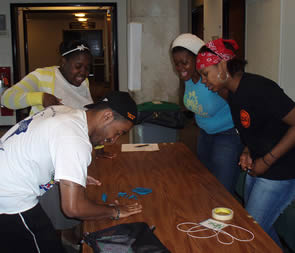 Unlike other states, registered nurse aides from a different state cannot directly get his name on the Registry. A CNA from a different state may either chose either the 1st or the 2nd route. North Carolina nursing students and nursing graduates are also able to take the exams without any additional training. To help prepare in taking the exam, it is recommended that individuals who are able to apply using the 2nd eligibility route enroll in a state-approved training program.
Aside from being more prepared to take the test by enrolling in a CNA training program, there are also other benefits that it brings. For example, an individual who was able to complete the necessary training and is waiting to take the exam is able to work as a nurse aide in a nursing home for 4 months.
Every nurse aide candidate is given a maximum of 2 years and 3 attempts to pass the tests. If he fails to pass the exams within those two conditions, he will be required to retrain before he can apply to take the test again. For those who took the exams after a refresher course, they will be required to take both parts of the license exams.
The exams are released by Pearson VUE 5 to 7 days after the scheduled exam date if there are problems with the scoring. If not, you will now your score within 10 minutes after the evaluator faxes your tests for scoring.  If you were able to pass, you will receive in your mail your nurse aide license with a wallet card. Your license and status on the NCNAR are valid for 24 consecutive months. It must be renewed before it expires. A license is considered expired if the owner was able to work as a nurse aide for at least one day within the 24 months. An expired license may no longer be renewed and the holder will have to start again from scratch if he wants to work again as a nurse aide.
This town is a part of Caldwell County. It is also a part of the Hickory–Lenoir–Morganton Metropolitan Statistical Area. As of the latest census, their total population was at 3,078 residents. It has a total area of approximately 3.7 sq miles and a population density of 839.3/sq mile.
Examples of health care centers and providers that you can find in this city include Fryecare Urgent Care Center (828) 728-6000, Hudson Primary Care (828) 728-0900, McMenemy John W. MD ABFP (828) 757-6330, Main Street Medical Park (828) 757-6330, Lewis Michael Dr (828) 728-4875, Piedmont Ob-Gyn PA (828) 728-7241, and Hickory Orthopaedic Center PA (828) 728-7123. photo attribution: create-learning