The certified nurse aide classes in Eureka, California are listed on the page below. If you have any inquiries about  programs, you can go to their office that is in the list. For your convenience you can also try calling them through their phone number provided for more information about class times, and cost.
College of the Redwoods
7351 Tompkins Hill RD.
Eureka, CA 95501
(707) 476-4214
EUREKA ADULT SCHOOL
2500 Cypress Ave.
Eureka, CA 95503
(707) 441-2448
American Red Cross Humboldt
406 11TH Street
Eureka, CA 95501
(707) 443-4521
Before you can start working as a nurse aide in California, there are a certain number of requirements that you must meet.  One of the most important among them is getting a  certification. Employers will only hire nurse aides who are certified by the Aide and Technician Certification Section of the L&C Program.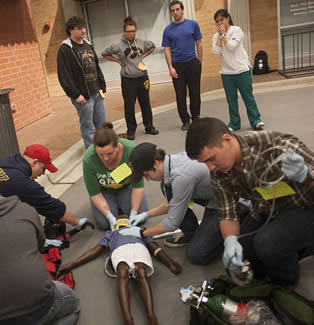 The first thing you need to do to get a certification is to enroll and complete a CNA training program. When looking for a program you must make sure that the one you choose is approved by the CDPH. This will ensure that your training has good quality and you will be allowed to apply for the state's certification exam.
Nursing assistant training in this state is made up of 50 hours of theories and 100 hours of clinical practice, at the least. If you enroll you will be placed under the supervision of a qualified instructor who is a licensed nurse with at least 2 years of nursing experience. You will learn different concepts such as infection control, communication and interpersonal skills, safety and emergency protocols, basic nursing procedures, personal care, and many more.
Although completing a CNA program is the most common way of qualifying for the certification exam, it is however, not the only one. Individuals who successfully completed one semester of nursing school or taken up the Fundamentals of Nursing such as licensed nurses and LPNs can also apply for the certification exam.
The certification exam consists of a 70-item knowledge test and a random skills evaluation. Because of the number of candidates who are taking the exam, the state has asked Pearson VUE to help conduct, score, and release the exam results.  Candidates must pass all the tests to get a certification. If they fail in at least one test they are allowed to reapply and retake the test that they failed.  Each candidate is allowed to take the exam up to 3 times within 2 years after completing his or her training.
Reciprocity is offered to nurse aides from other states. If they wish to apply they must have a current certification and a clean record. All applicants are still required to undergo and pass the federal and state background checks through Live Scan to be accepted for reciprocity.
The city of Eureka is the main city of Humboldt County, California. According to the last census, which was in 2010, the population of the city is now around 27,191. Its number has only grown around 1000 people for the past  10 years. It is the largest Pacific coastal city. It is located between San Francisco and Portland, Oregon.
This city is the regional city for healthcare. The largest health center in the region which mainly serves the city is St. Joseph Hospital. The city was first opened by the Sisters of Saint Joseph of Orange. Other main health care centers in the area include rehab centers, assisted living facilities, skilled nursing facilities, and operations or surgical centers.  Most doctors in the area specialize in oncology and dialysis. Other notable hospitals and health institutions include the Mad River Community Hospital, the Mental Health SVC- Humboldt, and the Redwood Memorial Hospital. photo attribution: codnewsroom