The nurse aide schools providing instruction in Cochran, Georgia are shown on this page. The programs listed here have met the requirements of the state and are approved for enrollment. Contact the facility to get additional information about the courses open at this time.
Bryant Health Care Center
134 6th Street SW,
Cochran, GA 31014
(478) 934-7682
Before you are allowed to handle any patients/residents as a nursing assistant, you must undergo and receive the proper training first. Your training must come from a state-approved CNA program. The private contractor that is in-charge of approving programs is the Georgia Medical Care Foundation. It was the Department of Community Health who appointed them. You can find these programs offered by different institutions like technical colleges, community training centers, private schools, and even government nursing homes. Depending on the program you choose, it takes an average of 2 to 6 months to complete your training.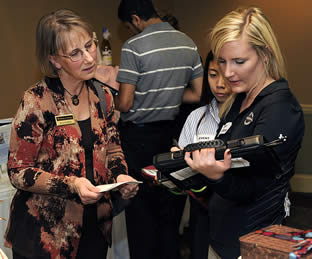 For a program to be approved, it must offer its students 85 hours of training. The training will be composed of clinical rotations, classroom lectures, and lab rotations. Before a student will be allowed to proceed to the clinical rotations, he/she should have 100% in the labs. When they are in the clinical area, they will be placed under the care of either a LPN or a registered nurse. No student will be allowed to enter and add to the section if the rotation has already started. The total number of training hours should also have a minimum of 24 hours allowed for clinical duties.
After your training, the next step is to take on the license exams. Before you can take it, you must apply for it by sending in your application form with the needed documents like fingerprint cards, high school diploma, ID photo, immunization records, passport pictures, and the fees for the different fees. The license exams will be composed of two parts, the written/oral exam and the skills evaluation. You must pass all tests to get your nurse aide license.
Cochran is the county seat of Bleckley County. It was named after Judge Arthur E. Cochran and was settled by B. B. Dykes. According to the census of 2010, their total population had reached up to a total of 5,150. It has a total area of 4.2 sq miles, where almost all of it is land. Its population density is estimated to be around 1,090.5/sq mile.
Health care facilities that you can find in the area include Griffis Mark MD, Glenwood Family Clinic, Middlebrooks Monroe C MD, Tison Jas H DR Office Phys Office, Peacock M Todd MD, General Surgery of Middle Georgia, Montgomery Internal Medicine, and many more. photo attribution: codnewsroom