The nursing assistant programs that are available in Gallup, New Mexico are found on this page. The course will teach the fundamental health care instruction to safely complete the duties of the job and prepare you for the certification tests. If you know of other training facilities being offered in Gallup, please let us know.
University of New Mexico
200 College Road,
Gallup, NM 87301
(505) 863 – 7500
http://www.gallup.unm.edu/
Now is the best time to start a career in the medical field. Statistics show that there are now more people who are concerned with their health and are now seeking medical assistance with them. In recent years, the demand for nursing assistants has greatly increased. Due to the aging population and demand for quality care, and decrease in the number of nurses, nursing assistant are in high demand. Hospitals, nursing homes and and health care centers all need help in terms of the personal patient care they require.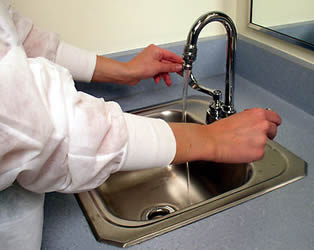 To get started you need to join a state approved school that provides the recommended curriculum that is accepted toward the state certification requirements. Once you have enrolled in and completed a training class you will be able to apply for a date to take the certification exams. The training is quick and that that expensive. All you have to do to start working as one is to get a nurse aide certificate. In order to get one, you will need to challenge NACEP after applying for it. The competency evaluation exam is only available to those who were able to complete a CNA class that was approved by the state's Human Services Department. It only takes 75 hours to complete.
The exams are offered through Prometric testing centers. Prometric is an independent testing company that also helps in the maintenance of the state's NAR. Their exams are composed of a written and a skills evaluation exam. For those who need special consideration, the testing centers are also willing to make certain arrangements when the applicant requests them. For example, those who have trouble reading English, they will be given an oral examination instead of a written one.
If you are more business minded, you can start your very own training center. Before the training facility is allowed to handle any students, they must first be certified by the state. One of the requirements for certification is that they offer the required number of training hours; offer the curriculum that was approved by the state which included at least 16 hours of supervised training in a variety of areas such as communication and interpretation skills, and their instructors must also be certified.
Requiring certified instructors for training facilities is a good thing for those who already have a career in healthcare and want to change. In order to become a nursing assistant clinical instructor, you must be a currently registered nurse, who has a minimum of 2 years of experience where 1 of those years were spent providing long term care. You must also experience in adult education or at least supervising nursing assistants. Other health personnel may also provide additional education to the nursing aides provided that they have at minimum of 1 year of experience in their field.
This city is the county seat of McKinley County. You can Gallup in between Albuquerque and Flagstaff, Arizona. Founded in 1881, the city was named after David Gallup, who was a playmaster for both the Atlantic nad Pacific Railroad. As of the last census, their total population was around 21,678 people. They have a population density of 1,513.7/sq miles. The total area of the city is estimated to be around 13.4 sq miles, where all of it is land. Major roads that are found in the area include U.S. Route 491 and Interstate 40.
Health care providers that you can find in the area include Heavenly Health Family Nurse Practitioners, Western New Mexico Medical Group, Rehoboth McKinley Christian Health Clinics, Western New Mexico Medical Group, Native American Behavioral Health Services, Heavenly Health Family Nurse Practitioners, Cordon's Family Pediatric Clinic, and many more.