The Georgia Nurse Aide Registry contains the list of nursing assistants in the state who had been granted a license or certification as well as those whose licenses have been revoked by the state.  If you wish to check your individual status or of those who are applying to work as a CNA in a particular nursing facility, you can go to their online registry and see whether they have active or inactive licenses. You can visit their website at www.gacnas.org and you will be able to find significant materials which are related to nursing assistant certification.
Georgia Nurse Aide Registry
1455 Lincoln Parkway East, Suite 750
Atlanta, GA 30346-2200
Local Phone: 678-527-3010
Toll Free Phone: 800-414-4358
Fax: 678-527-3001
Phone For GA Nurse Aide Program:
(770) 325-2320
GA Nursing Assistant Search
The online nurse aide registry is maintained by the Georgia Medical Care Foundation.  This organization is the one who is responsible for the licensing of nursing assistants and of approving training centers as well.  If you wish to work as a nursing aide in this state, you will need to contact the Foundation in order to know about their rules regarding reciprocity, application for certification exams, as well as a list of accredited nursing aide training centers in the state.  You can also check the Georgia CNA Association which provides a lot of benefits for those who choose to become a member of the organization.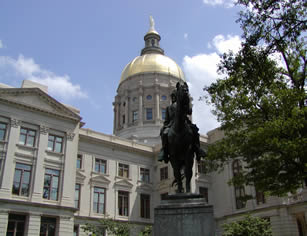 The state of Georgia has more stringent rules than other states when it comes to nursing aide certification – all applicants should have a 100% on their lab rotations before they can be allowed to practice in a clinical setting.  This means that a student should perfect his performance on the lab before he or she can be allowed to interact with real residents for his clinical experience.  Aside from that, there are also the classroom instructions which one has to pay careful attention if one wishes to perfect the lab rotation.
Before one can be granted a certification, he or she must pass an approved Georgia nursing aide training course, the criminal background check, as well as the state certification exam for nursing aides.  The test contains both a written or oral exam as well as an actual exam where the student will be asked to perform a set of basic health care related tasks that will be given.  Each of these tasks should be performed well if they are to pass the exam.  The student must also be able to pass the criminal and physical exams in order to determine his or her fitness for the duties that will be imposed on him when he becomes hired. You can read more about the current GA nurse aide certification requirements here.
Maintaining a good status on the registry is very important because any abuse or indiscretion on the part of the employee will be reflected on the registry.  The information will be made available to the public regarding the issues that has been raised against the CNA as well as the findings and the action that was taken by the Foundation.  Licenses can be suspended or revoked by the Foundation depending on the outcome of the dispute and whether the complaint has been proven to be true.  Access to such information can be obtained by keying in the nurse aides name and social security number on the registry's website.