The West Virginia Nursing Assistant Registry is the best source of nursing assistant information that you will need in order to work or hire a nursing assistant.  The registry was created as a compliance with the federal and state mandates to create a registry where one can access individual information about eligible nursing assistants who can work in nursing facilities in the state.  The registry is open to public access and is also being offered for free without any need to pay for fees in order to access the registry.  It also contains updated information about the list of certified nursing assistants in the state.
West Virginia Nurse Aide Registry
Licensure and Certification
408 Leon Sullivan Way, Charleston, WV 25301
Phone Number: (304)558-0050
Fax Number: (304)558-1442
E-mail: DHHR.OHFLAC.NAP@wv.gov
WV Online Reciprocity System
WV Online License Verification
There are certain requirements before an individual can be entered into the nursing assistant registry of the state.  This includes successfully passing a nurse aide training program in the state which has complied with the required number of hours and clinical hours spent on the training, passing the criminal background check, and also passing the certification exams for nursing assistants in the state.  The state requires at least 160 hours of total training period before you will be allowed to take the state competency exams.  Various training facilities are available around the state which includes community colleges and nursing facilities.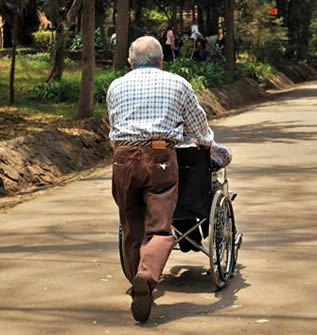 The registry is a good source of information for those who are looking for CNA applicant information.  The State has a mandate requiring that every employer should perform a thorough background check first of the potential worker before hiring them in their facility.  This includes checking with the state registry as to the employees personal information, background, work history and any convictions about abuse, neglect, or misappropriation of property that may have been committed by the person.  This is a very important step in the part of the employer and is also required by the state before the hiring process.
The registry is also a good source for those who are working as certified nurse aides themselves.  They can find new and relevant information with regard to nursing assistant work and continuing education if they wish to help improve their earning capacities by adding skills to their certifications.  There are also links to further information about the latest news regarding health care workers in the state. In addition you can find resources for those who wish to undergo training and for those who will be taking their state competency examinations.  There are candidate handbooks and guides which they can use in order to help aide their training and exams.  These materials are offered for free and there is no fee required in order to access them on the website. If you wish to learn more about the current WV nurse aide certification requirements you can visit this page.
Those who are licensed in another state and wish to become certified to work in the state of West Virginia should visit the online website for the WV Nursing Assistant Registry.  Through the registry they will be able to get the information and materials that they need in order to successfully pass the CNA competency exam. There is an online application form for those who are currently certified in another state and wish to transfer their license by applying for reciprocity. To do so they can electronically fill out and submit a re-registration application. Using this online registration process can significantly increase your approval time.