The schools offering nursing assistant programs in Waycross, Georgia that are licensed by the state are shared on this page. If you have any questions about the recent requirements to enroll you can use the phone number below to contact them to learn more.
Okefenokee Technical College
1701 Carswell Ave.,
Waycross, GA 31503
(912) 449-7979
Website: www.okefenokeetech.edu/
According to the rules of the state, only those who had undergone the appropriate training and had taken the competency exams are allowed to work in this state as a CNA. By passing the license exams, the candidate will get their name entered in the state's Nurse Aide Registry and receive a license. Before they are allowed to take the license exams, the candidate must complete a state-certified NATP. These programs are offered by different institutions like colleges, nursing homes, high schools, and other public and private schools. It usually takes about 2 to 6 months to complete a program.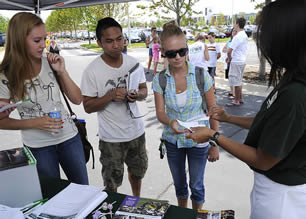 If you complete your training, your next step is to apply for the license exam. Another important requirement for the applications is submitting a copy of the results for your background checks. The background checks are done to also protect the interest of the residents. Offenses involving drugs and violence may prevent you from working in this state as a nursing aide. Background check results are also a requirement for nursing aides who are applying for reciprocity.
The license exams in this state are composed of two parts, a written and a skills demonstration exam. You can also have an oral exam instead of the written exam if you send a letter of request along with the application forms and the other documents during your application. To get your name entered in the NAR, the applicant must be able to pass both parts of the exams.
This city is the county seat of Ware County. A small part of the city is also included as a part of Pierce County. The city was founded back in 1920 and was originally known as Old Nine. Waycross is a major city of the Waycross micropolitan area. According to the census of 2010, their total population was around 14,725 people. It has a total area of 11.7 sq miles and a population density of 1,258.6/sq mile.
Health care centers that you can find in the area include Satilla Convenient Care, Satilla Regional Senior Behavioral Center, Mellick Gary DO, Adolescence Health Services, Shuman Healthcare & Speciality Pharmacy, Satilla Regional Center for Memory Disorders, Careone Home Health Services, and Farr Healthcare Services. photo attribution: codnewsroom