The nursing assistant colleges and vocational schools offering classes in Utica, New York that are currently open for enrollment as of the making of this post are all shown to you on this page. If you have any questions about how completing a certification training course can help you attain your license to work you can contact the facility phone number listed here.
Mohawk Valley Community College
1101 Sherman Drive, Utica, New York 13501
(315) 334-7709
http://www.mvcc.edu/
To work in the state of New York as a nurse aide, you must have a CNA certificate. This will only be given to those whose names are on the state's Nurse Aide Registry. To gain entry, you must be able to pass the state examinations, which are given by Prometric.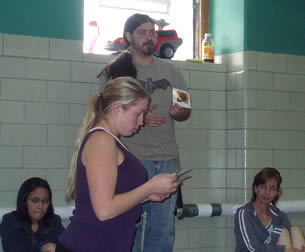 Before you can take the exams, you will need to apply for it. One of the requirements is that you must complete a state-certified nurse aide training course. The courses last 75 hours and must be approved by the Department of Health of New York. There are no age requirements to enroll in but before you do, you are required to undergo and pass the background investigation for criminal records.
Once you are able to pass the course, you will then become eligible to apply for the state's license exams. Nursing graduates and foreign registered nurses are also allowed to apply for this. They will need to get eligibility first from the Department of Health though before they are able to apply. These applicants will need to provide important documents such as the application forms, diploma, nursing license, transcripts, SS cards, and the fees for the exams. For first time takers, they will need to pay an amount of $115 for both the written and the skills exam. Those who requested to take the oral examination instead of the written one, they will pay a total of $135.
Other payment fees are:
•    $68 – Clinical skills exam only (Only for those who are retesting)
•    $57 – Written exams (Only for those who are retesting)
•    $67 –  Oral exams ( Only for those who are retesting)
•    $50 – Reciprocity processing
•    $40 – Recertification ( paid by the employers)
•    $15- Request for duplication of certificate
•    $5- Request for duplication of score reports
The exam results are shown 5 days after the date of the exams. If you pass, you will receive along with the results your CNA certificate and a wallet card. Your certificate will be valid for up to 2 years. In order to renew it, you must have worked for at least 7 hours within that time. Once a certificate expires it will no longer be renewable. The holder will need to undergo retraining and retesting if he wants to continue working.
This is the county seat of Oneida County. You can find this city situated near the region called as the Mohawk Valley. It is a principal city of the Utica–Rome, New York Metropolitan Statistical Area. According to the census of 2010, their total population was around 62,235 people. It has a total area of approximately 16.6 sq miles and has a population density of 3,710.0/sq mile.
Health care providers that you can find in the area include Faxton -St. Luke's Health Care Child Day Care, Stedman & Garger Assoc, Faxton-St Luke's Healthcare, Children's Health Center, York Street Clinic, Disabled American Veterans Stars & Stripes, Intelistaff Healthcare, Donovan School-Based Health Center, Cny Mental Health Services, ATC Healthcare, and many more. photo attribution: create-learning