the nurse aide programs in Taylorsville, North Carolina are listed for you in detail on this page. These training courses have all been approved by the North Carolina Department of Health and Services. For more information about the classes being offered, please call the number that is provided below.
Catawba Valley Community College – Alexander Campus
345 Industrial Blvd.
Taylorsville, NC 28681
(828) 327-7000
http://www.cvcc.edu/Resources/Alexander_Center/
To work as a nursing assistant in the state of North Carolina, you must get your name entered on the Nurse Aide I Registry of the state. Registered nurses, LPNs, and even Medication aides who are working in nursing homes are required to be on the Registry. There are three different ways to gain entry into the Registry.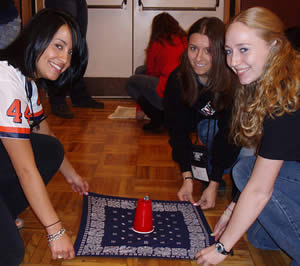 The first one is for those individuals who had never received any proper training as healthcare personnel. Before they should take the competency test, are required to complete a state-approved 75-hour training course. These courses consist of classroom instruction and on-the-job training. There are also training courses that are available for high school students.
The second way is to directly take the Nurse Aide I competency test without undergoing a nursing assistant training course. This route is available for those who already took up and passed the Fundamentals of Nursing. Examples of individuals who can take this route are nursing graduates from N.C. nursing schools.
The third route is only for those who are RNs and LPNs who are working in a nursing home. These individuals may directly gain entry into the Registry without any additional training or testing if they are able to provide a current, unrestricted license to work in the state, and the completed application form. A copy of the appropriate application form can be downloaded at this link: http://www.ncdhhs.gov/dhsr/hcpr/pdf/RNRegistry2.pdf.
An individual who is able to complete a state-approved training course may work in a nursing facility as a nursing assistant without a license for up to 4 months. If the individual wishes to continue, then he will need to take and pass the competency test.
The exams for this state are conducted by Pearson VUE. The exam consists of written/oral exam and a clinical skills test. Every nursing assistant candidate is given three attempts to pass all the exams. If he fails after the third time, he will be required to undergo retraining before he can reapply for the exams again.
This town is the county seat of Alexander County. It is also a part of the Hickory–Lenoir–Morganton Metropolitan Statistical Area. According to the last census that was taken there, their total population was at 1,799. This town has a total area of approximately 2.0 sq miles, where all of it is land. Its population density is estimated to be 897.6 people per square mile. This town was formed back in 1847 along with the county.
Examples of health care centers and providers that you can find in the area include Turning Point Services Inc., New River Behavioral Healthcare LLC, Emerald Health Care, Little River Group Home, Alexander Mental Health Clinic, and Health Care Connections Home Health. photo attribution: create-learning