The nursing assistant schools offering instruction in Statesboro, Georgia can be found on this page. Each of these programs has met state approval and is open for enrollment. Contact the program administrator through the phone number below to find out more.
Eagle Health and Rehabilitation
405 South College Street,
Statesboro, GA 30458
(912) 764-6108
Ogeechee Technical Institute
1 Joe Kennedy Blvd.,
Statesboro, GA 30458
(912) 688-6967
Website: http://www.ogeecheetech.edu/
There are different requirements that were made by the state to ensure that the quality of care that are rendered to residents by nursing aides remain top quality. The different requirements are also made to improve their standard of care. According to the state rules, the first step in becoming a nursing aide is to enroll and complete a CNA program that is approved by the Georgia Medical Care Foundation. This is the private contractor that was authorized to oversee the training and competency exam programs for this state.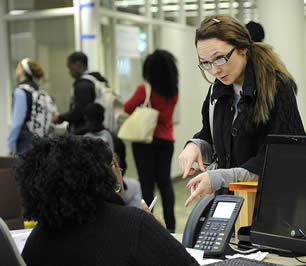 When you enroll in the program, your time will be divided into classroom lectures, lab rotations, and clinical rotations. These programs offer a total of 85 hours of training, where 24 hours of it is dedicated to the student's clinical experiences. When the students are in the clinical area, they will be under the care of a registered nurse or another member of the healthcare team like LPNs. It takes approximately 2 to 6 months to complete a training program.
After receiving the proper training, they next step is to apply for the license exams. If you feel that you are not yet ready to take the exams, you will be given a total of 24 months to postpone. Every applicant is also allowed to take the license exams up to 3 times in one year. If you fail for the third time, you will be required to undergo retraining before you will be allowed to take again. The latest requirements can be found posted on the Georgia web portal which is located online at www.mmis.georgia.gov.
This city is the county seat of Bullock County. You can find this city in the southeastern portion of the state. According to the latest census, their total population was around 28,422, making them the most populous city in the county. It has a total area of 12.6 sq miles and has a population density of 1,813/sq mile.
Examples of health care providers that are in the area include Bulloch Counseling Center, Pineland Mental Health, Medical Diagnostics, Pawsitive Counseling Center, Gentiva Health Service, University Home Health Services and South Georgia Center for Cancer Care. photo attribution: codnewsroom