The nursing assistant classes that are accepting student enrollment in Saint Joseph, Missouri are all shown to you in detail on this page. If you know other programs currently conducting instruction offered in the city, please contact us and we will add them to the post.
Hillyard Technical Center
3434 Faraon St, St Joseph, MO 64506
816 671-4170
http://www.sjsd.k12.mo.us/Domain/16
Those who wish to be employed as a nurse aide in the state are encouraged to join a recognized training course to get the necessary experience to take care of those in their care. Training classes must offer 75 hours of classroom coursework/lectures, and 100 hours of on-the-job experience. To be eligible for the school course the student must be at least 18 years of age unless they are enrolled in a high school health class, and not guilty of any particular classifications, and not be listed on the EDL disqualification list.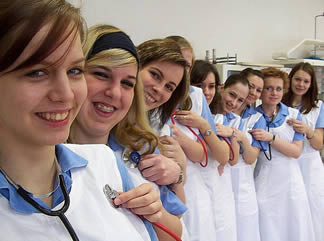 After completion the applicant can send in a completed form and take the two part final examination. The exam includes a written and physical skills demonstration. Those who pass are added to the state registry. According to the law, all those who work as a nursing assistant must be listed on the NA Registry. This registry is maintained by the state's Department of Health and Senior Services. It is a master list of all the nursing assistants who were able to comply with the federal and state's requirements and are allowed to work in Missouri.
Like many state's statuses on the Registry are not permanent. One must renew his license every 2 years to be able to remain eligible for work as a nursing assistant. To be eligible for renewal, the CNA must have worked for at least 8 hours within the past 2 years. The state also requires a 12 hour in-service training every year.
The state also requires that if you have any significant changes to your personal information, you should inform the Registry. With the new system, you can inform the Registry by simply going online and visit their site at https://www.health.mo.gov/cnaregistry/RegistryUpdateForm.html. It may take a few days for the updates to be uploaded to your record on the Registry.
This is the county seat of Buchanan County. It has a total population of 76,780, as of the 2010 census. Saint Joseph has a total area of approximately 44.8 sq miles. This makes that city the second largest in the north-western Missouri. Its population density is 1,687.7 people per square mile. This city was founded by Joseph Robidoux, who was a local fur trader at that time. He founded the city on the Missouri River.
Examples of health care centers and providers that you can find in the area include Take Care Clinic at select Walgreens, Women's Health of St Joseph, Northwest Behavioral Health Services, Perfect Sense Eye Care, The Center – A Samaritan Center, Family Guidance Center For Behavioral Healthcare, Life Long Learning Center Inc., Surgery Center of St Joseph, and Northwest Health Services. photo attribution: jdlasica