The certified nursing Assistant training classes found in Poway, California are being offered on this page. For more information about their programs, please call the number found below and speak to a school administrator.
POWAY U.S.D.
13626 Twin Peaks Rd
Poway, CA 92064
(858) 668-4024
Website: http://www.powayusd.com/
A CNA certification is a requirement to work in a California-approved nursing facility as a nursing aide. If you have never been certified before, then your only option is to challenge the National Nurse Aide Assessment Program.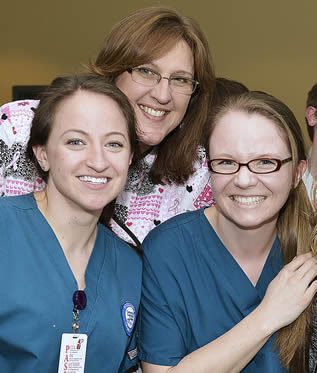 Before you can take the NNAAP exam, you must first complete a state-approved 150-hour CNA program. These hours consist of 50 hours of lectures and 100 hours of supervised clinical practice. Students are placed under the care of licensed nurses with background experiences in training adults. Before students can handle any patient, they are required to spend 16 hours learning the following concepts: infection control, safety and emergency care, communication skills, patients' rights and responsibilities, and basic nursing procedures.
After finishing, you can then try to take on the state license exams. Normally your school's program director can help you schedule a time to take the exams. However, if you want to find a testing location or get assistant setting a test date you can call the CA Department of Public Health (916) 327-2445 or email them at cna@cdph.ca.gov.
The NNAAP exam is a two part examination. The first part is initially a 70-item written test. All questions are multiple-choice. The questions are taken from different concepts that are taught in the training programs. If you have trouble reading English, you can request to take an oral exam instead, for a small additional fee. If you wish to take an oral exam, the request must be made upon the submission of the application forms (http://www.asisvcs.com/publications/pdf/070508.pdf).
The second part of the exam is the clinical skills test. In this part, candidates are placed in a common scenario where they are asked to demonstrate 5 nursing skills/procedures in front of a CNA evaluator. The first procedure is always proper Hand washing, while the rest is randomly selected from a set list. Candidates are required to perform all skills/procedures with 80% competency in order to pass this portion.
Only those candidates who will pass both parts of the exam will be given a CNA certificate. The results are normally released on the same day. If you pass all the tests, you can expect your CNA certification to arrive at the address you provided within 10 business days. If you do not receive your certificate within 30 days after passing, please call the ATCS at (916) 327-2445.
CNA certifications are only valid for 2 years. To maintain your eligibility to work as a certified nursing aide, you must renew your certification before it expires. You will need to work for at least 8 hours as a paid nursing aide and complete 48 hours of in-service/continuing education to be eligible for renewal.
To avoid problems when renewing, you must inform the ATCS if ever you change your name or address. You can inform them by submitting the Request for Name/Address change form (http://www.cdph.ca.gov/pubsforms/forms/CtrldForms/cdph0929.pdf). If you lost your certificate or want an updated one, you can also request for a new one by using the same form.
This city is situated in San Diego County, and has a total population of 47,811. It lies north of San Diego and south of Escondido. You can also find places like Rancho Bernardo, Sabre Springs, and Scripps Ranch near here. Poway has a total area of 39.3 square miles.
The Pomerado Hospital ranks 3rd among the top employers within the city; You can also find other health clinics like Arch Health Partners, Mission Health Care, Poway Surgery Center, NovaCare Rehabilitation, Mosher Optimal Health Center, Poway Medical Clinic, and Psychology Health Center within the city. photo attribution: westconn