The nurse aide classes in Langdon, North Dakota that are open for you to enroll in are all shown here on this page. Those who enroll in a course will get to practice using common health care tasks under the guidance of a registered nurse. For further details about the curriculum contact a training facility listed below.
Langdon Area High School
715 14th Ave.,
Langdon, ND 58249
(701) 256-5291
Maple Manor Care Center
1116 9th Ave.,
Langdon, ND 58249
(701) 256-5300
If you are looking for work in the state of North Dakota, you will have no problems finding a job if you become a nursing aide. With the number of people looking for help with their health, there is always work ready for fresh graduates.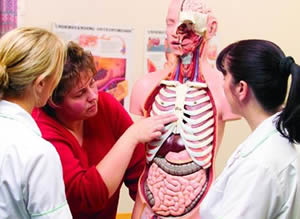 A nursing aide or a nurse aide/nursing assistant works under the supervision of a registered nurse and the medical staff. Nursing aides help the patients by providing routine care such as vital signs taking, performing bed baths, help in feeding, assist in other daily activities like ambulation, and tend to their other health needs so long as the task involved is within the scope of what a nursing aide can do.
In order to work fully as a nursing aide, you must be entered in the state's Nurse Aide Registry. The registry is a listing of all the individuals who were able to meet the state and federal requirements. The information listed on the registry for every person's record include the person's complete name, address, SS number, date of birth, the date he/she became a certified nurse aide, employment history. Records of accounts of neglect, abuse, or misappropriation of a patient's property are also contained within the registry.
The examination will be composed of an oral and a practical demonstration part, where you will be ask to perform random nursing skills that were taught in the training program. Before you can take the exams, you must first complete a training program and pass the background check.
Your record on the registry as well as your license is valid for 24 months. If you fail to perform any nursing or nursing-related tasks for pay for at least 8 hours within that time then you may not be allowed to renew your license. If this happens, he will no longer be eligible to work as a nursing aide. Unlike other states, a lapsed CNA license can no longer be renewed. If you want to work again as a nursing aide, then you will have to undergo retraining and retesting.
Any allegations of abuse, neglect, or theft directed to a nursing aide must be investigated first before they are placed in the nursing aide's records. The investigation will be made by the department and will involve a hearing. If the allegations are validated, then it will be added to the NA's records permanently, unless there were errors.
The city of Langdon is the county seat of Cavalier County. This city became the county seat a year before it was incorporated. According to the census of 2010, their total population was around 1,878 residents. It has a population density of 1,137.5/sq mile. The total area of the city is estimated to be around 1.68 sq miles, where all of it is land.
Health care centers and providers that are located in the city include Take Care Clinic at select Walgreens (866) 825-3227, Cavalier County Memorial Hospital (701) 682-5465, Eklof Richard H DR (701) 256-3230, Langdon Clinic (701) 256-6120, DNA Paternity Testing Centers (855) 399-3350, and many more. photo attribution: salforduniversity