The nurse aide schools providing programs for enrollment in Harrisonville, Missouri can be located on this page. To learn how to join a class and receive skills and theoretical training to help pass the competency exams you should contact a facility administrator. Those who finish training and pass the exams become certified and are allowed to work.
Cass Career Center
1600 East Elm
Harrisonville, Mo 64701
816 380-3253
http://www.harrisonvilleschools.org/education/school/school.php?sectionid=1270
If you want to become a nursing assistant, you will need to first enroll in a state-approved program. These programs require you to spend 75 hours of your time in classroom lectures and another 100 hours in the clinical area practicing skills. While you are in the clinical area, you will be under the supervision of a registered nurse and receive hands-on training.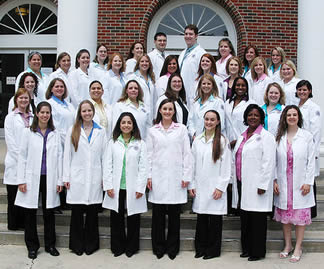 There are several requirements in order to qualify to enroll in training. Currently you must be at least 18 years old ( unless enrolled in a health occupation class in high school), not be listed on the state ESL disqualification list, and not be found guilty of certain disqualifications. You can call the Missouri Department of Health and Senior Services at 573-526-5686 or via email at: info@health.mo.gov to learn more about the requirements.
After you complete your training, your next task will be to pass the final exams. These exams will be composed of a 2-parts which are; a written and a skills demonstration exam. You will need to pass both parts of the exams in order to get your name entered on the Nurse Aide Registry. Once you are there, you will then receive your certification.
An active certification is required for you to be able to work in the state. These certifications are only valid for up to 2 years. Within that time, you must have worked for at least 8 hours so that you will become eligible for renewal. There is also a 12-hour yearly in-service requirement for those who are working in a nursing facility.
Harrisonville is the county seat of Cass County. As of last year's census, their total population has now reached up to 10,019 people. It has a total area of approximately 8.7 sq mile and a population density of 1,035.2 per square mile. This city was founded back in 1837. It was named after a congressman named Albert G. Harrison.
Health care centers and providers that you can find in the area include Pathways Community Behavioral Health Care (816) 322-4332, Genesis Health Care Corp (816) 887-0229, Jefferson Health Care (816) 524-3328, Inner Light Health Care  (816) 525-2656, Summit of Health Integrative Care Chiropractic & Hyperbaric Center (816) 554-4771, Grandview Health Care Clinic (816) 765-8900, Advanced Health Care LLC (816) 525-6688, Amedisys Home Health Care (816) 524-7355 an many more. photo attribution: timefornurses