Schools that are enrolling students for training to become a nursing assistant in Greenwood, South Carolina are found on this page. For more information about the available medical career training schedules, cost of tuition, or certification requirements, please call a school using the phone numbers below.
Care A Lot
115 I Hampton Place Shopping Center
Greenwood, SC  29646
864-223-9269
G.Frank Russell Career & Technology Center
601 East Northside Drive
Greenwood, SC  29649
864-9415750
Piedmont Technical College, Continuing Education
PO Box 1467 Emerald Rd.
Greenwood, SC  29646
864-941-8324
Piedmont Technical College, PCT
P.O. Box 1467
Greenwood, SC  29649
864-941-8571
To work as a nursing aide in South Carolina in a Medicaid nursing facility, you must be on the South Carolina Nurse Aide Registry. There are two ways to get into the SCNAR. You can either challenge the certification exam or apply for reciprocity.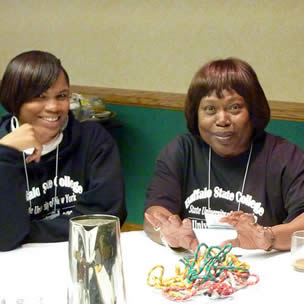 The process of reciprocity is only available to persons who are already a certified nurse aide. If they apply, their certification must still be valid and that they must have a clean record. Applicants will have to provide proof of their education and training by showing documents such as certification on completion of training, diplomas, transcript or records, and/or their CNA card. To protect the patients, all applicants must also pass the federal and state criminal background check. Potential applicants may download a copy of the Reciprocity Application Packet from http://www.asisvcs.com/publications/pdf/074102.pdf.
The certification exam consists of a written exam and a random skills evaluation. The written exam may be replaced with an oral exam if the candidate has trouble reading English. If you want to take the oral exam, a request must be sent along with your application. There is no additional charge for the oral exam. To get into the SCNAR, candidates must pass all the tests within 3 attempts and within 2 years of completing one's training.
Aside from the completed application form (http://www.asisvcs.com/publications/pdf/074101.pdf), candidates will be required to submit a photo ID, birth certificate, a copy of one's SS card, and proof of training and education such as transcript of records, diplomas, or certification of completion of a training program.
Potential employers are required to check the records of their applicants on the NAR. Currently, the Registry is maintained by Pearson VUE. To check a CAN's record, you can visit https://www.asisvcs.com/services/registry/search_generic.asp?CPCat=0741NURSE. The search may be done with the use of the applicant's name or certification number.
This small city is the county seat of Greenwood County. It has a total population of 23,222 during the census of 2010. Greenwood has a total area of approximately 13.7 sq miles, where all of it is land. Its population density is 1,612.1/sq mile.
Major hospitals serving the area include Self Regional Hospital and the Greenwood Regional Rehabilitation Hospital. Other health care centers that you can find in the city include DDC- DNA Diagnostics Center, Piedmont Internal Medicine Of Greenwood Liner Dr, Carolina Neurosurgery & Spine Center PA, Premier Surgical Services, Parrish Home Medical, New Life Christian Counselling, The Children's Center. photo attribution: create-learning