The CNA classes in Brooklyn, New York that are listed on this page are all the current and up to date certification programs that are open for enrollment. Completion of a course is necessary to qualify for state license exams. For additional details about the certification training programs currently available in the city, please contact the facility and talk with a course director.
ASA College
81 Willoughby Street
Brooklyn, NY 11201
(718) 534-0810
http://www.asa.edu/
Kingsborough Community College
2001 Oriental Boulevard
Brooklyn, NY 11235
(718) 368-5052
http://www.kbcc.cuny.edu/
Medgar Evers College- Adult & Continuing Education
1650 Bedford Avenue,
Brooklyn NY, 11225
(718) 804-8846
http://www.mec.cuny.edu/
NYC College of Technology Division of Continuing Ed
25 Chapel Street
Brooklyn, NY 11201
(718) 552-1180
http://www.citytech.cuny.edu/
Although there are several different routes to get a New York CNA certificate, there are only two general ways to gain entry into the state's NAR. One is to take the competency evaluation exam, which is for those who completed a training program, nursing graduates, and foreign registered nurses; while the other is directly applying to gain entry into the Registry. The latter one is for those who are already nursing assistants from other states who are applying for reciprocity and for U.S. RNs and LPNs who want to become a nurse aide.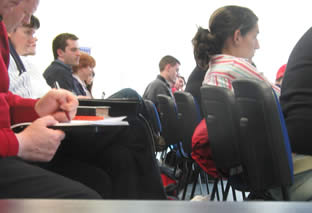 To qualify to take the CNA exam in the state of New York you first need to attend an approved training program. The program needs to teach a total of 75 hours of combined classroom instruction and experience in a clinical setting. In addition to enrolling in instruction, you also need to submit a completed application and a receive a state and federal background check before you can apply to take the nursing assistant test.
The competency evaluation exams consist of two parts in which the nurse aide candidate must be able to pass both of them in order to gain entry into the Registry. The first part of the exams is the written exams, which consist of 60 multiple-choice questions. The written exam is also available orally. This is advantageous for those that have English as a second language and have difficulty in reading in English. To take an oral exam instead of a written one, a request must be made on the same date that the application to take the exam is made.
The second part of the examination is the clinical skills test. In this portion, the candidate will be performing 5 nursing skills in front of a nurse aide evaluator. Before the start of the exam, each candidate will be given a sheet that contains the general instruction for this portion. To pass this, one must be able to perform all the skills satisfactorily.
A candidate is only allowed to take the exam in an approved testing area. For those training facilities that wish to conduct the examination, they will need to apply for in-facility testing from Prometric. An available application form can be downloaded at: https://www.prometric.com/en-us/clients/Nurseaide/Documents/New%20York/NYNARequestforInFacilityTesting20111104.pdf. For those who are currently not employer or are employed in a facility that is not allowed to conduct the tests, they will have to take the exams at a Regional Testing Site.
Every applicant is allowed to take the exams up to three times. After failing for the third time, the candidate will need to undergo retraining before he will be allowed to retest. When retaking, the candidate will only need to take the exam that he failed in.
This is a part of Kings County. It is the most populous borough of New York City. Kings County is the westernmost county on Long Island. According to the last census, their population had reached up to 2,504,700 people. It has a total area of about 96.90 sq miles and has a population density of 36,356/sq mile. This place was named after Breukelen, Netherlands.
Examples of health care providers that you can find in the city of Brooklyn include Boris Tsatskis MD, Brookdale Physician Dialysis Center, Best Medical Care PC, 310 Health Care Center, Yai National Institute, Cynamon Aaron M Doctor of Medicine, Post Graduate Center for Mental Health, and many more.