The certified nursing assistant training offered by colleges in Alfred, New York that are open for enrollment as of the making of this post are shown to you in detail on this page. If you have any questions about requirements to join, or the latest class schedules, call to speak with a course adviser.
SUNY College of Technology
10 Upper College Drive, Alfred, NY 14802
(607) 587-3672
http://www.alfredstate.edu/
Nurse aide applicants wanting to work in a nursing facility in the state of New York are required to be certified if they want to work. This can be established by either directly applying for the NAR or taking the license exams.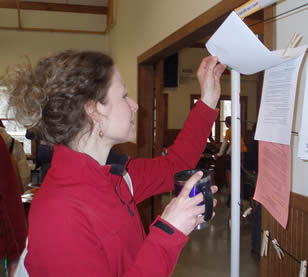 The only individuals who are allowed to directly apply for the Registry are RNs, LPNs, and CNAs that are registered in a different state. When they apply, they will no longer be required to undergo any additional training or testing. All they have to do is to send the application forms along with documentations that show proof of their training and experience. For example, RNs are required to show their nursing license, while CNA's are required to show a current out-of-state certificate.
For those who are taking the license exams, eligibility must also be established before they are allowed to apply for the exams. For individuals who have no background in the medical field, they will be required to complete a CNA training course that is approved by the DOH.
Nursing graduates, foreign registered nurses and nurse aides who had their license expired but completed their training on or after July of 1989 are allowed to directly take the exams. Nursing graduates and foreign nurses must prove their eligibility by submitting certain documents to the Registry.
Each applicant is given 3 attempts to pass both the oral/written exam and the clinical skills exams. All the tests must be passed within two years from passing the application forms. If the candidate fails after the third attempt, he will be required to retrain and reapply for the exams.
The nurse aide applicant is reminded to keep all the receipts of their training and testing. If the nurse aide is able to find work within one year from taking and passing the exams, he will be eligible for reimbursement. The nursing facility will copy the receipts and send them to the state's DOH. The DOH will then send the payments to the nursing facility, which will be used to reimburse the nurse aide. For more information, please follow this link: https://www.prometric.com/en-us/clients/Nurseaide/Documents/New%20York/NY%20NA%20Manual_20120703%20Web%20version.pdf.
This is a town that is situated in Allegany County. This town also has a village with the same name that can be found in the center of the town. According to the latest census, their total population had reached up to 5,237 people. It has a total area of approximately 31.6 sq miles and has a population density of 163.0 people per square mile.
Examples of health care centers and providers that you can find in the town include Collins Steven MD (607) 587-8192, Internal Medicine (607) 587-8143, St James Mercy Health System (607) 587-8192, Poon Joseph MD (607) 587-8143, and many more. photo attribution: create-learning