The approved schools in Alberta, Virginia that are currently available for nurse aide instruction are shared on this directory page. Those who enroll will be able to schedule an exam date once finished with their course. Call to learn more about the steps necessary to receive certification.
Southside Virginia Community College
109 Campus Drive
Alberta, VA 23821
(434) 949-1000
Southside Virginia Community College
109 Campus Drive
Alberta, VA 23821
Working as a nursing aide means that you'll be working under the supervision of licensed nurses. Although this might be true, this does not diminish their importance. Why are they important? Well, certified nursing aides help nurses perform basic nursing procedures. They also help maintain ongoing procedures as well as assist in assessing the patients' reactions to each procedure that they assisted.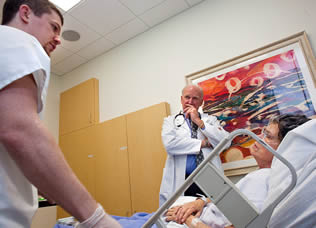 The actual job description of a nursing aide is very wide. Because the tasks t that they do depend on what are delegated by the nurses, it is important that they are equipped with the proper knowledge and skills. That is why receiving the proper training is a MUST for all aspiring nursing aide candidates. You can either complete a state-certified CNA program or complete at least one semester of nursing school.
Receiving the necessary training will make you eligible to apply for the National Nurse Aide Assessment Program examination or NNAAP exam. Taking this exam is the final step in becoming a nursing aide. The federal and state laws require all nursing aides to be properly trained and certified to work in a state-approved nursing facility.
The NNAAP exam consists of a written/oral test and a random skills evaluation. Candidates are required to pass both tests to get a CNA certification. If a candidate fails, he can reapply for the exam immediately and retake the test that he failed. Unlike some states, a candidate can retake the NNAAP exam as much as needed, so long as it's within 2 years after taking the exam for the first time.
Because the demand for nursing aides in Virginia is very high, the state in now accepting individuals who are certified as nursing aides from other states. They can transfer and work in Virginia if they apply for reciprocity or endorsement. This process allows them to transfer their certification without any need for further testing. Interested applicants must have a current certification and a clean record to qualify for endorsement/reciprocity.
Certifications in this state are only temporary. Holders must renew their certification to remain eligible to work in a state-certified nursing facility. If you fail to renew your certification, you won't be allowed to continue working. An expired certification can no longer be renewed but can be reactivated by taking the competency evaluation exam within one year after it expires.
This is a town that is a part of Brunswick County. According to the latest census, their total population had reached up to a total of 306 people. It has a total area of approximately 1.1 sq miles, where all of it is land. Its population density is around 278.3/sq mile.
Examples of health care centers that are located within the town include DDC- DNA Diagnostics Center, G & G Treatment Center, Nurse Advantage, Alberta Day Program, Southside Community Health Center, and Alberta Manor. photo attribution: codnewsroom