Nurse aide instruction classes in Ottumwa, Iowa that are open for enrollment are listed here. The courses listed here have been authorized to teach and meet registry eligibility requirements. If you know of other nursing assistant program listings, please send them to us and we will add them to the page.
Indian Hills Community College
525 Grandview Ave., Ottumwa, IA 52501
(641) 683-5111
http://www.indianhills.edu/
To be a nursing assistant in Iowa, you have to complete a training program. You should make sure that the program you choose is approved by the state. If you finish, you may be able to apply for the state exams to be included on the CNA registry.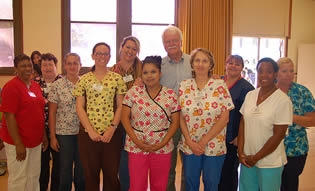 The first step in becoming a nursing assistant is being able to get in a training program that is approved by the state. Before you take care of a patient, you must first know how to do it properly. While you are in the training program, you will be spending your time in lectures, skills training, and clinical duties. To complete the program, you have to meet the minimum set of hours that is required which is currently 75 hours of instruction. Depending on the program, you select to enroll in, it will take you can complete your training within 6 months.
After you complete your training, you can then send in your applications for the license exams. Taking these exams is a necessary step since you will not be able to work as a nursing assistant in any nursing facility if your name is not in the Iowa Direct Care Worker Registry. To get your name entered, you will need to pass all the tests. You can speak to a state representative to learn more by calling 515-281-4077 or 1-866-876-1997.
Nurse aide license holders from other states are welcome to work if they apply for reciprocity. The most important thing to have when applying is a good relationship with their state and a valid nursing assistant status. Having records such as patient abuse and negligence can greatly affect their applications. For more information, you can follow this link: http://dia.iowa.gov/DCW_FAQ_02202012.pdf.
This city is the county seat of Wapello County. It is located in the southeastern portion of the state. This city is divided into two parts by the Des Moines River. It is often called as the "River of Opportunity". According to the 2010 census, their total population had reached up to a total of 25,036 people. It has a total area of approximately 16.5 sq miles and a population density of 1,516/sq mile.
The Ottumwa Regional Health Center is currently the 3rd biggest employer in the city. Other health care providers that you can avail in Ottumwa include Ottumwa Foot & Ankle Clinic, Ottumwa Chiropractic Clinic, American Home Finding Association, Southeast Iowa Neurological Assoc PC, Family Health Center, River Hills Community Health Center, Life Solutions Behavioral Health, Internal Medicine North, Concept by Iowa Hearing Aid Centers, and Family Planning Clinic. photo attribution: repgeorgemiller