Training facilities that teach nursing assistant programs in Fort Dodge, Iowa that are open for enrollment at this time are shared below. Included in the list are all the private colleges, community colleges, high schools, and community training centers that are available for instruction.
Iowa Central Community College
One Triton Circle,
Fort Dodge, IA 50501
(515) 576-7201
There are several ways for you to get your name entered in the state's Nurse Aide Registry. One of the most common ways is to complete a state-certified CNA classes. These courses are offered by colleges, high schools, and even healthcare centers. Depending on the program you enroll in, it will take you an average of 2 to 6 months to complete your training.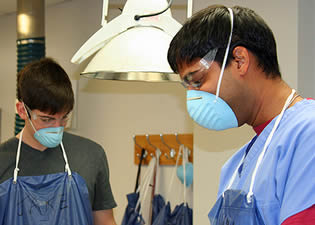 By completing your training, you can become eligible to apply for the competency exams. As a nursing aide student, you will be spending your hours of both lectures and clinical duties. State-certified programs are required by the state to offer its students a minimum of 75 hours of training. These hours should have 30 hours of clinical rotations. When you are in the clinical area, you will be placed under the care of a registered nurse or a member of the healthcare team.
When you are ready to take the exams, you will need to submit your application forms along with the necessary documents. According to the state rules, you should also be able to pass the federal and state background checks. If you fail them, you will not be allowed to proceed and take the exams. For those that have completed training in a different state, one will just have to apply for reciprocity and not be required to take another training program again. One of the great things about being a nursing assistant in the state of Iowa is that you do not have to renew your license if you have worked for at least 8 hours within the span of two consecutive years.
Fort Dodge is the county seat of Webster County. It is located just along the Des Moines River. The city was named after Henry Dodge, who was a senator from Wisconsin. According to the 2010 census, their total population was around 25,206. They are currently ranked 25th in the entire state. Their population density is estimated to be 1,700/sq mile. The total area of this city is approximately 14.8 sq miles, where only 0.3 square miles of it is water.
Health care centers that are located in the area include Johnson Kristina Certified Physicians, Child Health Specialty Clinics, Trimark Physicians Group – Family Practice, Tompkins Health Center, Mental Health Center, Trinity Pain Management Center, Webster County Health Department – Immunization Clinic, Chemical Dependency Services, Crossroad Counseling Services, Community Health Center, Lincoln Mental Health, and many more. photo attribution: iubmedicalsciences