The nursing assistant classes that are currently available in Hutchinson, Minnesota are all listed here. The programs shown here are registry recognized. If you know of other listing that are being offered in the area, please contact us and we will add them to the page.
Ridgewater College
2 Century Ave. Southeast,
Hutchinson, MN 55350
(320) 234-8500
http://www.ridgewater.edu/Pages/default.aspx
There are plenty of ways for you to find a job today in the healthcare industry. Many people now believe that the best way to start a career in healthcare is to become a nursing aide. As compared to other courses, becoming a nursing aide will be much faster and less expensive.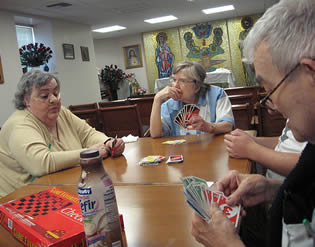 All you have to do to become one is to complete a 75 hour training program that is approved by the state and take the competency exams at an approved testing site. Pearson Vue is in charge of overseeing the exams. They are also providing candidate handbooks for the applicants to study and get an overview of the exams.
If you wish to work for a long period in a nursing facility, you must have your license. You will only be able to get your license if you are in the state registry. It is the State Department of Health that handles all matters involving nursing aides or assistants. Those that are certified nursing assistants from a different state can still apply for reciprocity. Once they are accepted, they may be able to work in Minnesota.
If you are a licensed nurse and don't want to become a nurse aide then you may apply to become a CNA instructor. To be qualified, you must have 2 years of experience as an RN, where at least one of those years was spent at a long term care center. You will also be required to complete a Train the Trainer Training program which is offered at Minneapolis Community and Technical College. For more information about the training program, you can call Jess at (612) 659-6501.
The city of Hutchinson is a part of McLeod County. You can find the city just along the South Fork of the Crow River. According to the census of 2010, their total population had reached up to a total of 14,178 residents. They have a population density of 1,763.6/sq mile. The total area o the city is about 7.8 sq miles, where almost all of it is land.
Out of all the jobs in the city, the medical field ranks 3rd as the largest job type in the city. Among those that are involved in the medical field include Hutchinson Medical Center PA, Steppingstone Therapeutic, Hutchinson Area Health Care – Orthopaedic & Fracture Clinic, Crow River Chiropractic – DR Randy Jurgenson, Hutchinson Community Counseling Center, Counseling / Mental Health Services At Hutchinson, and many more. photo attribution: drewbiedoo