The training centers teaching how to work as a nurse aide in Logan, West Virginia are featured on this site. The curriculum will teach you proper medical techniques and help get you ready for the examination for certification.
Logan Park Care Center
1000 West Park Avenue,
Logan, WV 25601
(304) 752-0637
If you want to start a career in the medical field, then there's no better way to do so than become a nurse aide. Nurse aides are important members of the health care team. They help provide and maintain nursing and nursing-related services to patients who are in different health care settings.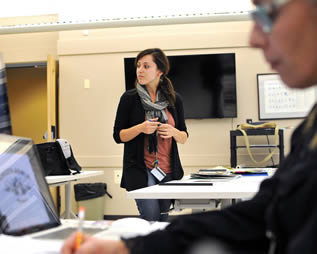 Step 1: Training
The OBRA of 1987 requires that all nurse aide candidates must undergo proper training before working as a full-time employee in any state-approved health care facility. One of the best ways to learn how to become a competent nurse aide is to enroll in a Nurse Aide Training Program (NATP).
You can find these programs offered by the following:
•    Hospitals
•    Nursing Homes
•    Community Colleges
•    Vocational Schools
•    Technical Colleges
•    Assisted Living Centers
•    Private Training Institutions
•    Government Organization
Will Completing Online Training Course Suffice?
No. Online training courses only offer lecture and theory portion of nurse aide training. Federal regulations require candidates to complete at least 16 hours of clinical training to qualify for the competency exam. The State of West Virginia requires its candidates to complete a minimum of 55 hours of clinical training in a Medicaid/Medicare training facility to qualify for its State Competency Exam.
Step 2: Applying for the Competency Exam
If your instructor or training program does not schedule the examination for you, then you'll need to schedule the exam for yourself. You will need to contact the Professional Health Care Development through the information below:
PHD
PO Box 399
Ona, West Virginia 25545
(304) 733-6145
Fax: (304) 733-6146
Website: www.profhd.com
Email: info@profhd.com
Step 3: Taking the Competency Exam (State Exam)
The State Exam is divided into two parts – a multiple-choice knowledge test and a skills evaluation exam. Both tests are offered on the same day with the help of a testing company that WV has hired. Candidates are given 3 attempts to pass both test and get certified. These attempts are only valid within 2 years after completing one's training. If a candidate fails to pass within those attempts or within 2 years after training, then he or she will be required to complete another training program.
The Nurse Aide Registry
The NAR consists of all the names of individuals who were able to pass both the federal and state training and testing requirements. Only those who passed both tests of the competency exam are allowed to gain entry into the NAR. Once a person's name is on the Registry they will be given a CNA certificate and will be allowed to work long-term.
The city of Logan is the county seat of Logan County. It is located just along the Guyandotte River. As of the 2010 census, the total population of the city was estimated to be 1,779 people with a population density of 1,403.5/sq mile. Logan has a total area of approximately 1.3 square miles where only 0.1 square mile of it is water.
Examples of health care centers and clinics that are serving this city include Sathish & Radha Internal Mdcn, Logan Kidney Dialysis, Trinity Healthcare Services, Occupational Injury Clinic, Sheridan Health Corp, Logan Diet Clinic, Logan Center, Sathish & Radha Internal Medicine, and plenty more. photo attribution: ufv