The active schools in Madison, Virginia for certified nursing assistant are all shown for you below. If you know any other registry recognized courses in the area, please contact us and we will add them to the page.
Autumn Care of Madison
Number One Autumn Court
Madison, VA 22727
(540) 948-3054
Madison County High School
68 Mountaineer Lane
Madison, VA 2272
(540) 948-3785
Are you looking for a stable job? If you are, then you should consider working in the field of health. There will always be a constant demand for health care providers because proper health care will always be a necessity. There are numerous ways to start a career in this field. One of the best ways is to become a nursing aide. Compared to other courses, you don't need to spend years training before you can start working as one.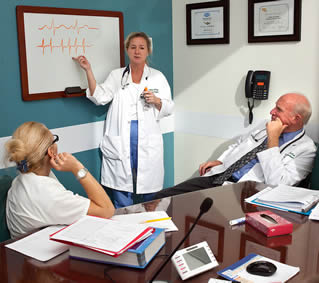 CNA training in this state consists of at least 75 hours of training. These hours are divided into both lectures and supervised clinical practice. Students are handled by a qualified instructor while they are in the clinical area. Students are not allowed to perform any task that has not yet been taken up in the classroom. Depending on the program you choose, it can take you from about 8 to 24 weeks to complete your training.
As soon as you are through with your training, all that's left to do is to submit the application forms for the NNAAP exam and then take it. Taking the NNAAP exam is the final step in becoming a nursing aide. The NNAAP exam consists of a multiple-choice knowledge test and a random skills evaluation. If you pass both tests, then you will receive a certificate from the Board of Nursing. This certificate is a requirement to work in a state-certified health care facility.
The NNAAP exam is conducted by the Nursing Aide Competency Evaluation Services with the help of Pearson VUE. If you want to know more about the exam, you can download a copy of the CNA Candidate Handbook by following this link: http://www.asisvcs.com/publications/pdf/075300.pdf. You can also visit www.pearsonvue.com and try out their sample knowledge test.
To increase the chances of a promotion of a raise, you can try to add other certifications once you receive a certification. One option is that you can enroll in an advanced training program and become an advance CNA; or you could complete a state-approved CMA course, take their certification exam, and become a certified medication aide.
There is also plenty of other work available in Virginia. You can visit the www.dhp.virginia.gov and find out how you can attain other degrees and certifications such as nursing, LPN, nurse aide clinical instructor, and many more. You can also find out different ways to start a career in the field of health.
This town is the county seat of Madison County. According to the latest census, their total population had reached up to a total of 210 residents. It has a total area of about 0.2 sq miles, and has a population density of 961.4/sq mile.
Examples of health care providers whose services you can avail within the area include Laffond William T MD, Madison Family Medicine, Sealander J Yates MD, Culpeper Medical Associates, LLC, Madison Family Physicians Inc., Madison Primary Care Inc., Kennedy Scott, and many more. photo attribution: codnewsroom