The colleges and nursing assistant schools offering certification classes in Iowa Falls, Iowa that are listed on this page are all available to enroll in. If you know of other state authorized programs in this area, please contact us and we will add them here.
Ellsworth Community College
1100 College Ave.,
Iowa Falls, IA 50126
(641) 648-4611
http://www.iavalley.edu/ecc/
The completion of a CNA program is one of the most important steps in becoming a nursing aide in Iowa. Before you are allowed to handle any patient, you should first receive the proper education and training. To ensure that you will get good training, you must only enroll in a program that is approved by the state.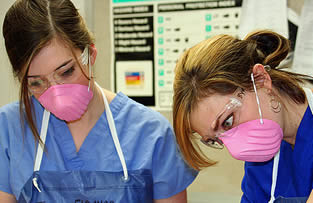 You can find these programs all over the state and are offered by different institutions. As a nursing aide student, you will be trained on the different nursing skills that you will be using to take care of the patients. You will learn how to promote safety and health, help maintain proper hygiene, monitor vital signs and take progress notes, as well as help in other daily activities such as ROM exercises or ambulation. To pass the program, you must have at least 75 hours' worth of classroom lectures with 30 hours of duties in a nursing facility or a health care facility setting.
After you learn all that you need to, you will then be tested when you take on the nurse aide license exams. These exams are composed of a written and a skills demonstration exam. You must be able to pass both of the tests to get your name entered in the registry. Once listed employers can search your name on the state database for your eligibility to work. Active status is granted in two year periods and will need to be renewed by sending in work verification before this time has passed. For any questions, you can call 515-281-4077 or 1-866-876-1997 to speak with someone from the Iowa Direct Care Worker Registry.
The city of Iowa Falls is a part of Hardin County. The city is also called as "The Scenic City". You can find this city just along U.S. Route 20 and U.S. Route 65. According to the last census there, their total population was around 5,194 residents. It has a total area of about 5.1 sq miles, where almost all of it is land. The city has an estimated population density of 1,043.1/sq mile.
Health care centers and providers that are found in the city include Scenic Living Communities, Ellsworth Family Medicine, W I C Program, Iowa Falls Dialysis Center, McFarland Clinic PC, Iowa Falls Chiropractic Clinic, Hardin County Mental Health Services, Wellnet, Emh Surgery, and plenty more. photo attribution: iubmedicalsciences