All the certified nurse aide training classes available in Hover, Alabama are listed in detail on this page. If you need information regarding their training, schedules, enrollment, and tuition, please call the number provided below.
[There are no available programs in the city of Hoover, AL as of the moment. However, you can find programs open for enrollment in the city of Birmingham.]
The demand for health care professionals has increased in recent years. The City of Hoover can be a wonderful place to start a career as a nursing aide in the state of Alabama. This city is located in both Jefferson and Shelby Counties. It is currently the largest suburb of Birmingham with a total area of 43.64 square miles. As of the census of 2010, the city's total population had reached up to 81,619 people. With this many people, there are bound to be plenty of health care facilities in the city.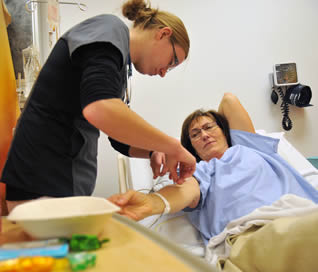 To work as a nursing aide in this state, you have to gain entry into the Nurse Aide Registry. This can be done by taking the National Nurse Aide Assessment Program Exam or NNAAP exam, after you complete a state-approved training program. It is important that aspiring candidates know how to take care of the patient properly.
CNA programs are offered throughout the state so you won't have much trouble looking for one. You can find them being offered by hospitals, nursing homes, assisted living centers, community colleges, technical schools, government organizations, and other training institutions. As required by the state, their training curriculum should always consist of both theory and practical training; and the duration must last up to 120 hours. Students are handled by a CNA Instructor during the entire clinical training; they are not allowed to perform without the presence of their instructor.
A nursing graduate or nursing student, who wishes to work as a nursing aide are still required to get into the Nurse Aide Registry. If a nursing student was able to take up the Fundamentals of Nursing, then he is allowed to apply directly for the NNAAP exams. Interested applicants will need to provide an original transcript of records to prove their education and training.
The NNAAP exam consists of a written (oral) exam and a skills evaluation exam. Candidates are required to indicate, upon application, if they were to take the written or oral exam. There is an additional fee of $20 for those who choose to take the oral exam. Candidates will only gain entry into the Nurse Aide Registry if they are able to pass both tests within 24 months after completing their training.
Like many states, Alabama also welcomes and allowed certified nursing assistants from other states to transfer their certification through reciprocity; however, their process and requirements are a bit different. The only way you can get on the Alabama NAR through reciprocity is by applying for a job at a nursing home. Once you are accepted, your name will automatically be added to the registry. As always, at reciprocity applicant must have a current certification and must not be listed on the Abuse Registry.
There are plenty of nursing homes that can be found in Hoover, AL. This means that there is a high chance of jobs waiting for those who are in this line of work. Examples of nursing homes located within the city limit are the Elmcroft Byrd Springs, Cogburn Health and Rehab Inc., Whitesburg Garden, Arc of Madison County, Bookshire Health Center, Harris Home for Children, and many more.
Once you get certified, you'll need to renew your certification every 24 months from the date you passed the NNAAP exam. No CNA is allowed to continue working with an expired certification. To qualify for re-certification, you'll need to work, for compensation, as a nursing aide at a nursing home or other health care facility, while under the supervision of a licensed nurse. If you let your license expire, you can reactivate it by taking the NNAAP exams once more. photo attribution: ufv