The schools offering nurse aide training in Grinnell, Iowa that are listed on this page are the most recent classes as of the making of this post. If you have any questions about the cost to enroll, classroom schedules, or training curriculum, please call the school phone number to speak with a program coordinator.
Iowa Valley Grinnell
123 6th Avenue West, Grinnell, IA 50112
(641) 236-0513
http://www.iavalley.edu/
A CNA is a member of the healthcare team that has a close relationship with the patients. They help out by performing the basic nursing skills and procedures that are assigned to them by either the nurses or physicians. Examples of such skills include assisting in feeding, bathing, dressing, toileting, exercising, as well as monitor vital signs, and perform necessary emergency procedures.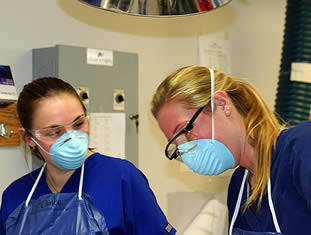 It is not that hard to become one in this state if you know what to do. The most important thing is that you get your name entered in the state's Nurse Aide Registry. It will only be entered there if you were able to pass the nurse aide license exams. Before you are allowed to take the exams, you will need to complete the different requirements. Among them, the most important are passing the background checks and being able to complete a state-approved training program. The license examinations will consist of two parts, a written and a practical demonstration part. Once you pass the two, you may start working legally.
Only those whose names are in the registry will be allowed to work in a nursing facility. Nursing assistants from other states may also work if they apply for reciprocity. When they apply, they must have a valid license or an active status in their own state's registry. Those who are applying for reciprocity are also required to pass the background checks. You can call the Iowa Direct Care Worker Registry to learn more about how to qualify by calling 515-281-4077 or 1-866-876-1997.
The city is a part of Poweshiek County. The city was named after Josiah Bushnell Grinnell, who was also its founder. It was founded as a town back in 1854, and was originally planned to be named "Stella". According to the 2010 census, their total population was around 9,218 people. It has a population density of 1,825.7/sq mile. The city has an estimated area of 5.0 sq miles, where all of it is land.
The Grinnell Regional Medical Center, is the main health care center that is serving this city. Other health care facilities that you can also avail in the area include Grinnell Medical Associates, The Station Clubhouse, Koenen Chiropractic Clinic, Grinnell Family Care PC, Poweshiek County Mental Health Center, Deer Creek Health Center, and Mccaw Family Medicine. photo attribution: iubmedicalsciences