The certified nursing assistant schools that are currently offering courses in Dallas, Georgia that are available for enrollment as of the making of this post are listed here. Call a representative using the phone numbers below to find out more details.
CPR With Mickey
110 Evans Mill Drive,
Dallas, GA 30157
(770) 573-2448
http://www.cprwithmickey.com/
Paulding County High School
1297 Villa Rica Hwy.,
Dallas, GA 30157
(770) 443-8008
Wellstar Paulding Nursing Center
600 West Memorial Drive,
Dallas, GA 30132
(770) 443-4763
http://www.wellstar.org/locations/pages/wellstar-paulding-hospital.aspx
To become a nursing assistant, you must receive the proper education and training that you will need in taking care of the residents. You can get all the knowledge and training you need when you enroll in a state-approved CNA course. The course that you select should be approved by the GMCF to ensure that you are receiving proper training. Shown on this page are the training programs that are available in the city.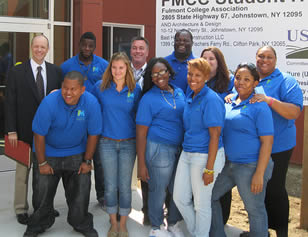 Certified training programs offer a total of 85 training hours. These hours will be divided into labs, classroom lectures, and 24 hours of clinical duties. According to the state rules, a student will not be allowed to take proceed into the clinical rotation without a 100% rating in the lab. During the clinical rotation, the student will be handled by a RN or a LPN. They will have their training/duties in either a hospital or a nursing home.
If you are already working as a nursing assistant in a nursing home, you must enroll immediately in a certified program and take the license exams within 4 months from the start of your work. A nursing facility is not allowed to let an individual work as a nursing assistant for more than 4 months without a nurse aide license.
This city is the county seat of Paulding County. It was named after George M. Dallas, who was once the vice-president of America. According to the census of 2010, their total population was around 11,544 people. It has a total area of approximately 4.5 sq miles, where all of it is land. Its population density is estimated to be around 1,123.6/sq mile.
Health care centers and providers that are serving the city include United Healthcare Services Use for Beverly Nordby, Nurturing Wholeness, Paulding Nephrology Dialysis Center, New Georgia Family Healthcare, Scott Eye Clinic, West Georgia Family Medicine Associates PA, and New Hope Urgent Care. photo attribution: usdagov