The schools offering students classes to become certified as a nurse aide in Columbus, North Carolina are shown on this page. Applicants who are accepted and complete the course become eligible to take the license exams. For more information about their training programs, certification requirements, or tuition fees, please call the number provided below.
Isothermal Community College
1255 W Mills St,
Columbus, NC 28722-8643
(828) 894-3092
http://www.isothermal.edu/
Getting a CNA certification is a requirement to work in the state of North Carolina. When you get certified, it also means that your name is added to the Nurse Aide Registry. The only way to do that is to pass the competency evaluation exam, which is conducted by Pearson VUE. This exam is only available to those who were able to establish eligibility through:
•     Completing a N. C. -approved training course
•    Completing a refresher course – which is common for those who are repeating the exams
•    Completing the a state-certified training course from a different state
•    Graduating from a nursing education program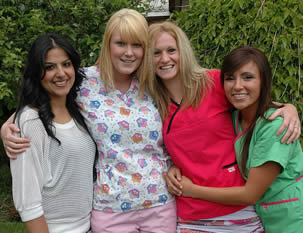 The advantage of completing a N. C. -approved training course is that once you graduate from the course, you will be allowed to work as a nursing assistant for up to 4 months while waiting to take the competency exam. If you get hired as an employee during those months, you will no longer be required to pay the exam fee. For individuals who get hired by a Medicaid/Medicare nursing facility within 12 months from getting certified, they may be eligible for reimbursement. That is why it is important to keep all the original receipts.
For those who need to pay for their own exams, initial takers are required to pay a total of $101 for both the written and skills exam. Pearson VUE does not charge anything extra for those who opt to take the oral exam. Re-takers are only required to take the exams that they failed in. For those taking only the knowledge test (written/oral test), they will pay $24. The skills exam only costs $77. Since the applications for the exams are now done online (https://i7lp.integral7.com), exam fees may be paid by the use of a credit card or a pre-paid credit card.
To get on the Registry, you must pass all the exams within 3 attempts. If you feel that you are not yet ready, you are also given a maximum of 2 years, from the day you completed your training, to get certified. Once you pass the two year mark or still failed after your 3rd attempt, you will no longer be able to reapply for the exams unless you undergo retraining. For more information on how to become a nursing assistant, you can download a copy of the NA Candidate Handbook from http://asisvcs.com/publications/pdf/073400.pdf.
This city is the county seat of Polk County. It has a total population of 992 at the last census. Columbus is  a small town with a total area of about 1.8 square miles, where all of it is land. Its population density is around 559.1/sq mile.
Examples of health care centers and providers that you can find serving the city include Lifespan Psychological Services, St Luke's Hospital – Center of Behavioral Medicine At Saint Lukes, PRO Health & Fitness, Foothills Medical Associates, Van Wyk Rustan J /Do, Head Memorial Clinic, St. Luke's Hyperbaric & Wound Care Center, Viar Jeffrey DO, and many more like them. photo attribution: ufv