The CNA Training Schools located in Mankato, Minnesota that are shown here offer all the registry authorized programs in this city. To learn how to enroll as a trainee you should call the number listed and speak with a facility administrator.
The Thro Company Oaklawn Health Care Center
201 Oaklawn Ave., Mankato, MN 56001
(507) 625-8741
http://www.throcompany.com/
A nursing aide is tasked with taking care of a patient with the use of the basic skills common to those in the health care profession. They get to assists patients with their hygiene, help maintain the rooms that they are staying in, and offer support when it is needed. Nursing aides work in nursing facilities like long-term care homes and hospitals to assist the medical team.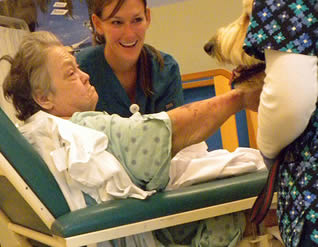 To become certified and eligible to work you must be listed on the state's Nurse Aide Registry. There are several ways to go about this, with the most common method being signing-up for a training course and passing the competency exams. Training is required by the state to include 75 hours or more of classroom and clinical practice. Another method is to challenge the exams directly without attending a school program. In both cases the applicant must successfully pass both parts, the manual skills, and the written exam to become certified.You can call the registry toll free at 1-800-397-6124, between the hours of 9-3 and Monday thru Friday to speak with a staff representative to learn more about requirements.
The final method to become licensed to work is by transferring your license from another state. If you are a CNA license holder from a different state and want to work in Minnesota, then you will need to apply for reciprocity by filling out the Interstate Endorsement Forms, which you can get by downloading them at http://www.health.state.mn.us/divs/fpc/profinfo/narinfo/Interstate2.pdf. The files will also include the necessary information on what to do.
Section A-1 of the form must be sent to the Registry that you are currently registered to while section B-1 should be completed and sent to your last or current employer in the state you are currently registered in. You will only send both Sections A-1 and A-2 if you came from Illinois, California, North Carolina, Missouri, or Colorado.
The link above also contains the complete address of the NARs all over the country. When your name has been placed on the Registry, you will be notified through mail that your forms were received from your last Registry and employer and that there were no corrections or verifications needed.
The city of Mankato falls under three different counties: Blue Earth, Le Sueur, and Nicollet. It is also the county seat of Blue Earth County. You can find this city situated at the bend of the Minnesota River and where it meets the Blue Earth River. It is just across from its twin city, North Mankato. This city has been called as "Key City". With a total population of 39,309 people during the 2010 census, they are the 4th largest city that is outside of Minneapolis-St. Paul metropolitan area. It has a total area of approximately 15.4 sq miles, where almost all of it is land.
The Immanuel St. Joseph's – Mayo Health System and Mankato Clinic are two of the largest employers in the city, where Immanuel St. Joseph's is the biggest. Other health centers that you can find in the area include Hillcrest Health Care Center, Hogue Vein Institute, Mankato House Health, Mankato Surgery Center, Wild Rose Home Health Services, Open Door Health Center, and many more. photo attribution: bterrycompton